Top Halloween Costumes Of 2022
Top Halloween Costumes Of The Year - 2022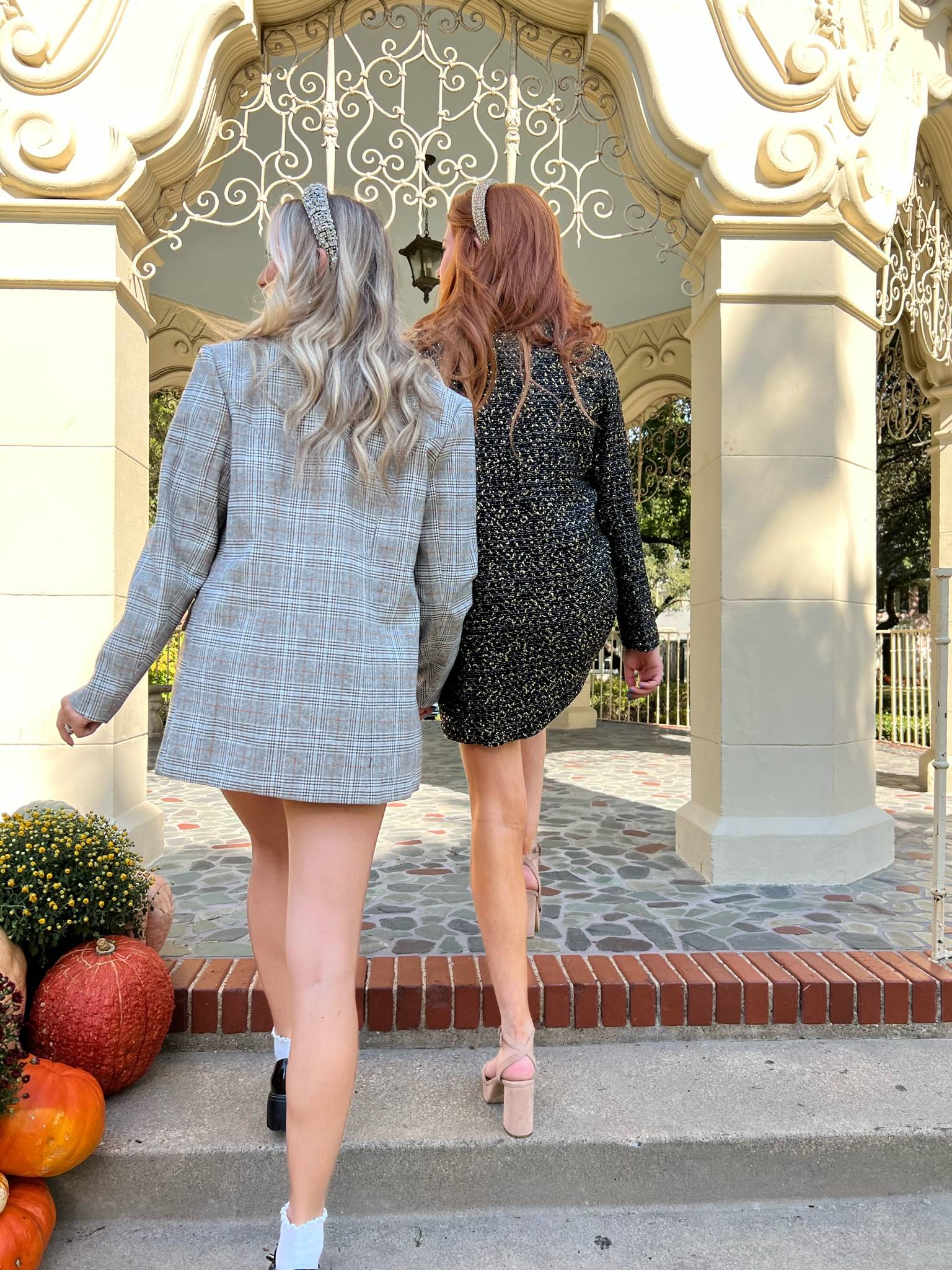 Spooky SZN may be coming to a close but, we are serving costume ideas to save for later! These classic looks will not be going out of style anytime soon and they can easily be recreated with pieces you already have in your closet.
From everyone's favorite bestie duo, Blair and Serena, to nostalgic childhood characters like Cosmo and Wanda, to trendy disco cowgirls and a timeless witch, we have costume inspiration for everything!
Save this post for next year's Halloween costume ideas and avoid buying those expensive costumes you will only wear once! Adding your own twist and style to Halloween has never been easier with BuddyLove!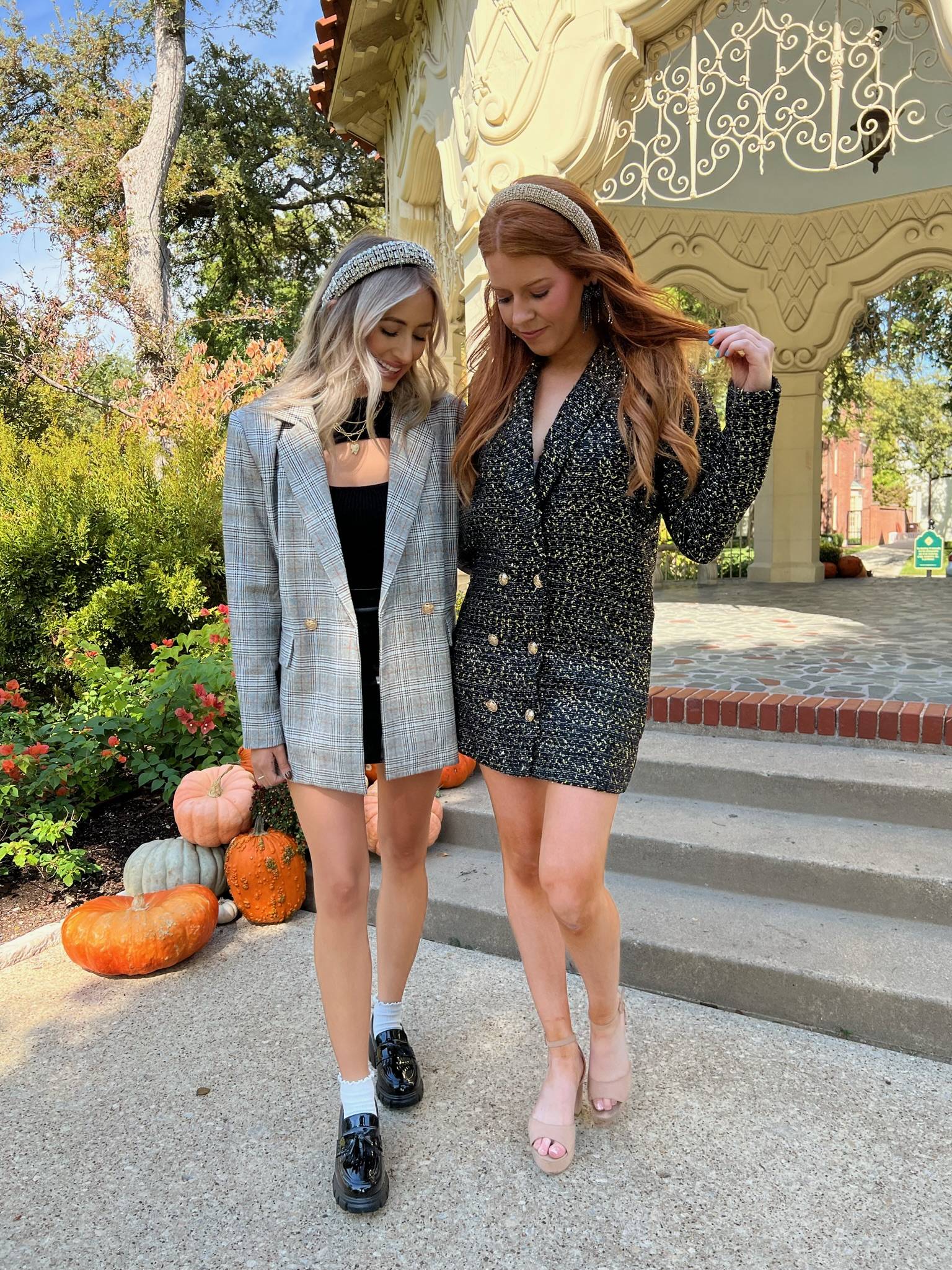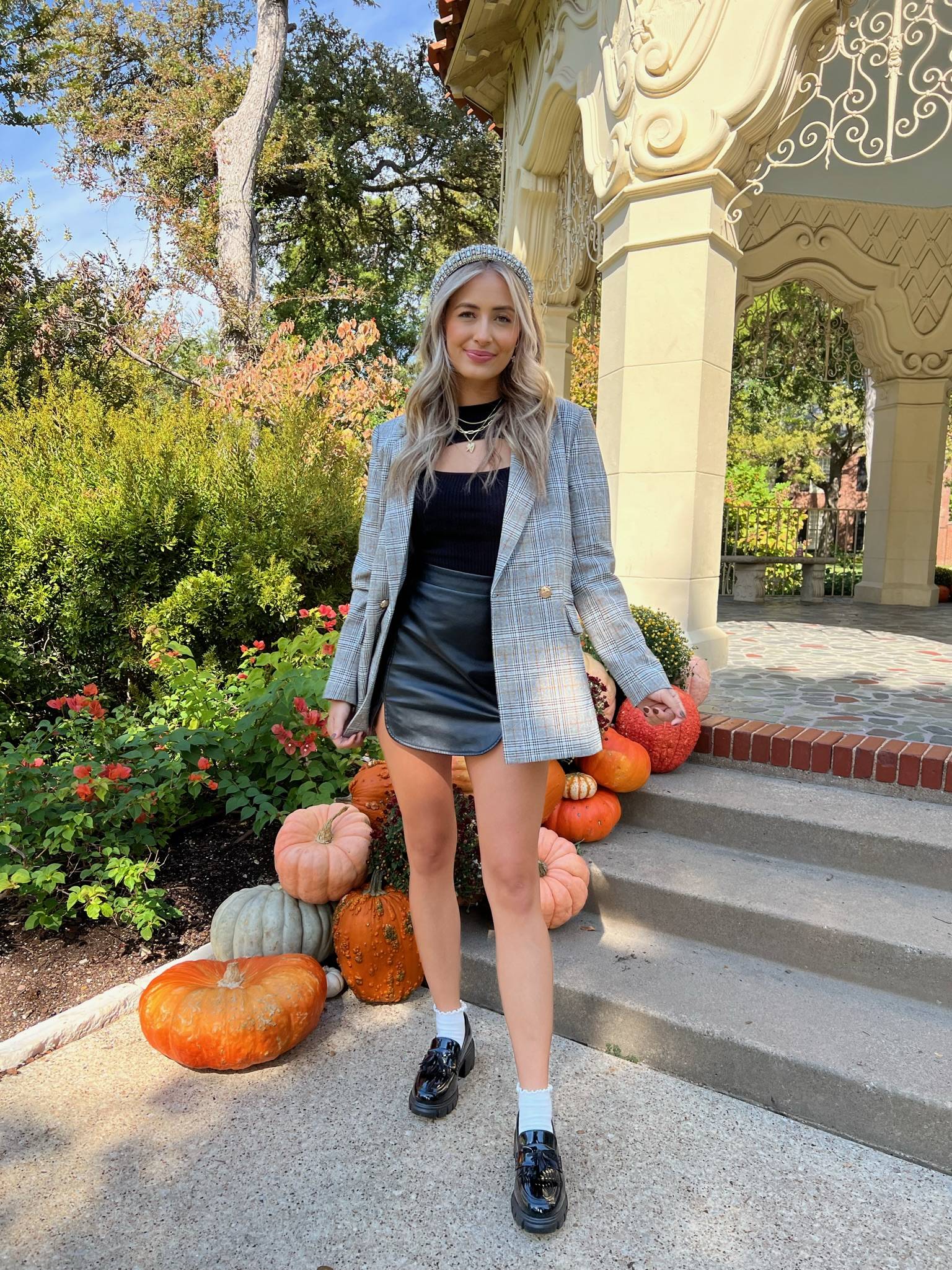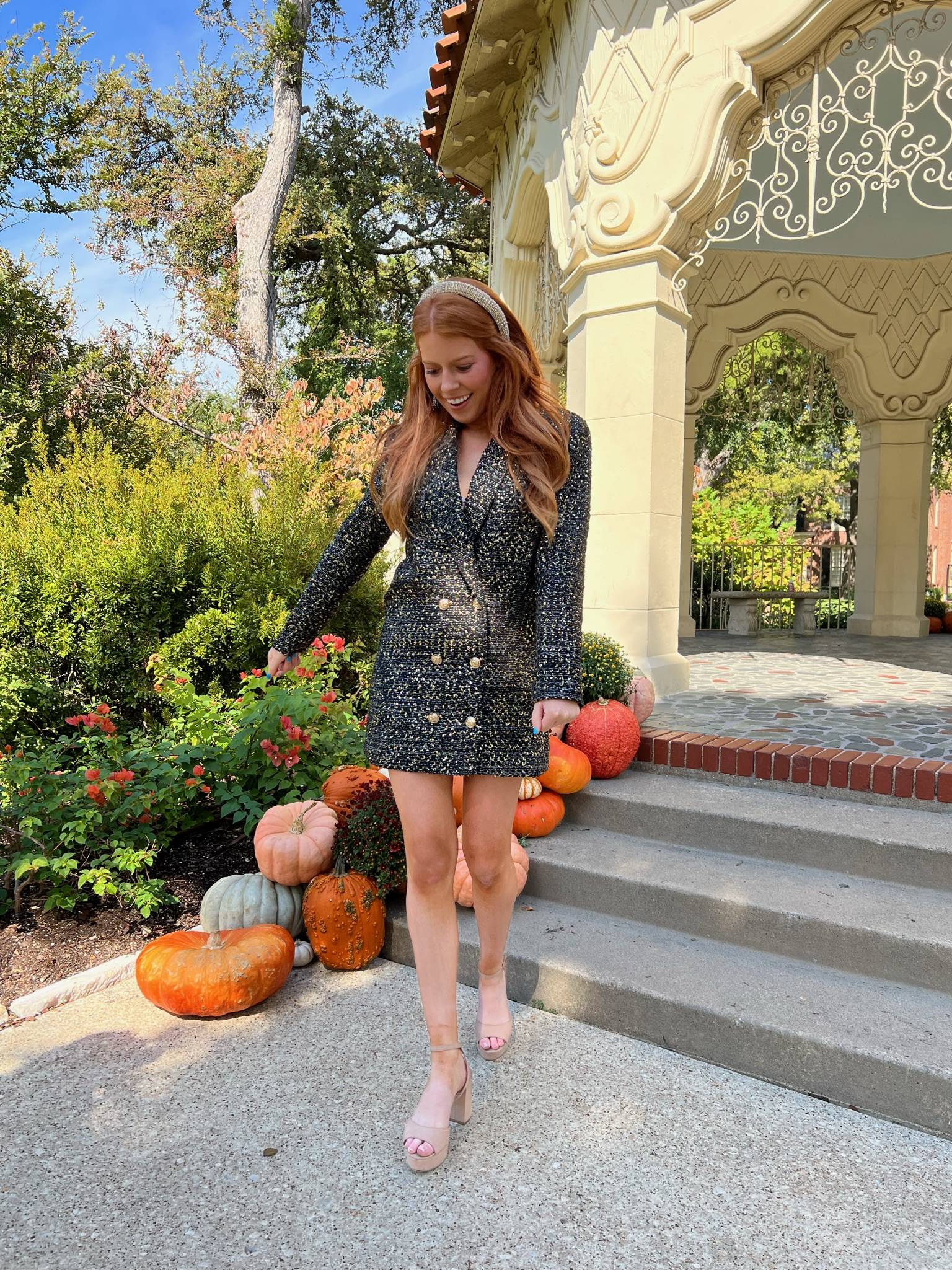 Hey, Upper East Siders. Queen B and S have sent shockways through the city yet again. This time? The Babes were breaking necks wearing the latest BuddyLove styles. Looking to follow in Manhattan's elite footsteps? Keep reading for all of the juicy outfit details.
If you are more of a Blair, with a sophisticated and preppy fashion sense, BuddyLove has countless styles to help you channel your inner Queen B. Our Carey blazer was the first look that came to mind when creating this Halloween costume. Made of traditional tweed with gold thread accents throughout, the Carey blazer is available in Black, Pink, and Blue plaid. This oversized blazer is the ultimate versatile piece as it can be worn fully buttoned as a dress, or opened for a classic blazer style. Add a rhinestone headband and platform heels for a costume that screams Blair Waldorf!
For the Serenas van der Woodsens of the world who exude an effortless cool-girl vibe with a touch of edge, BuddyLove has you covered! This year, we decided to put a Serena twist on our Avery blazer, in Manhattan pattern nonetheless. The Avery blazer worn over our Nadia bodysuit with a large keyhole front cutout, paired with a leather mini skirt, black loafers + ruffle top socks, and multi-layered necklaces nod to Serena's edgy flair.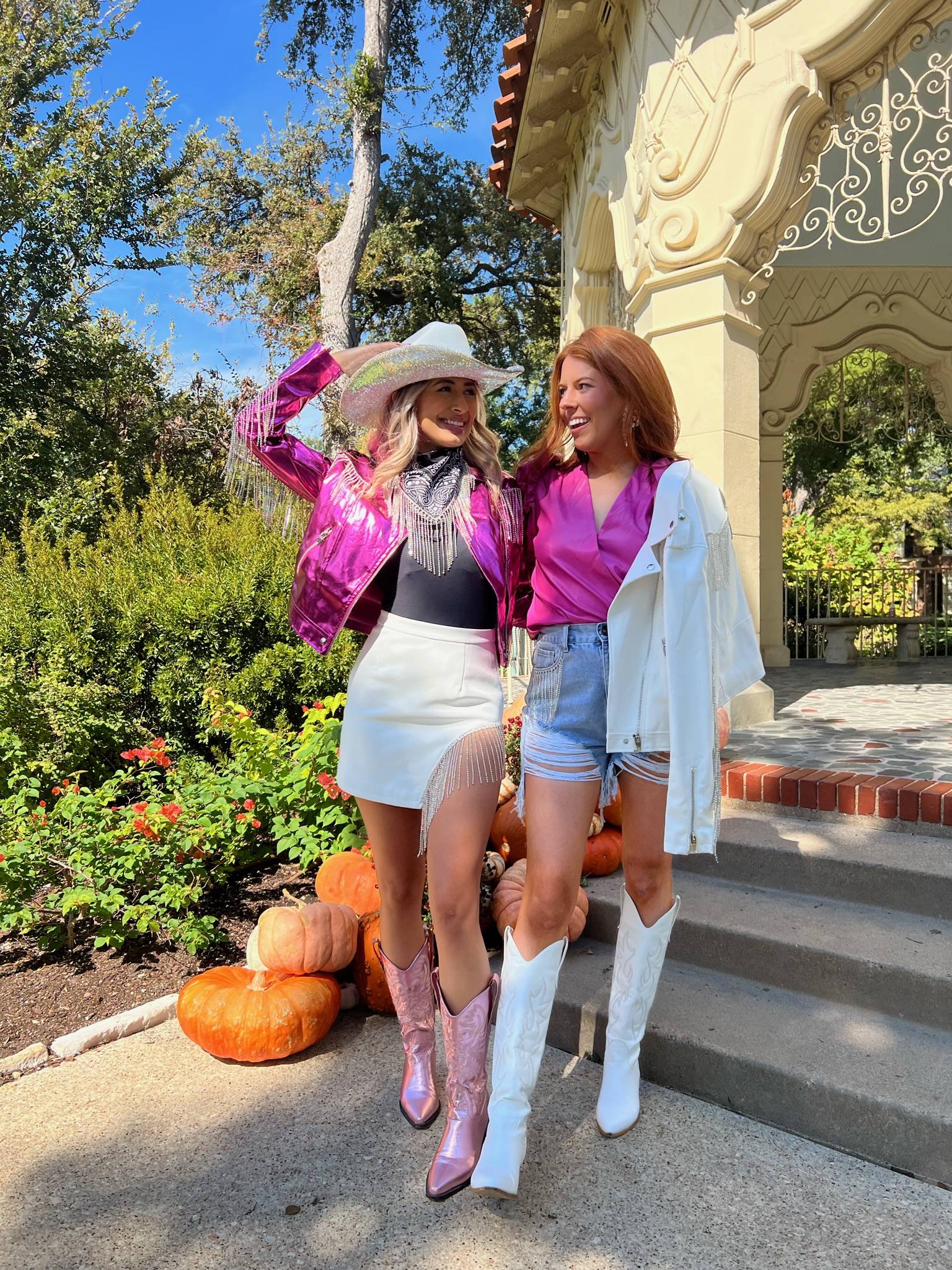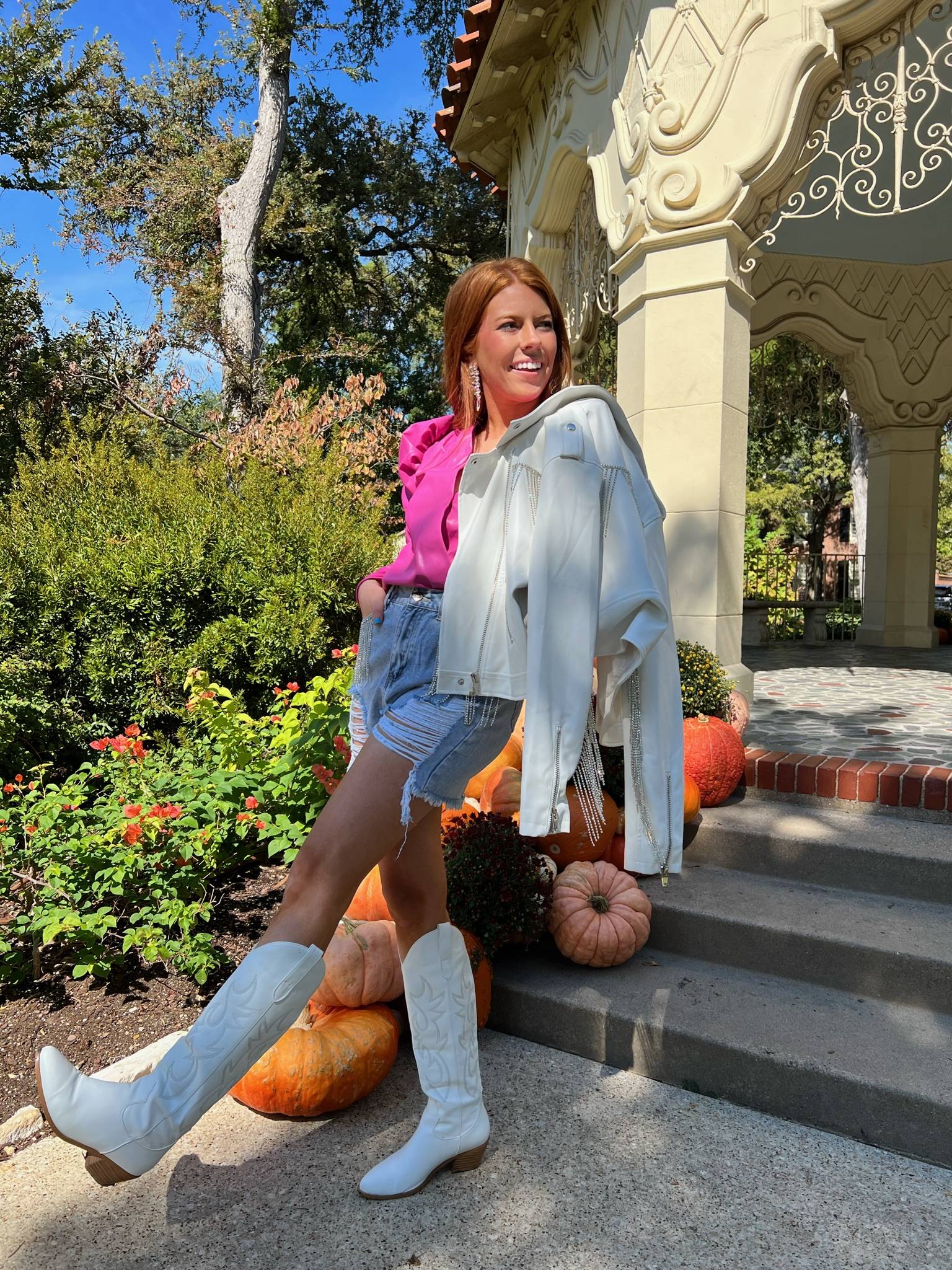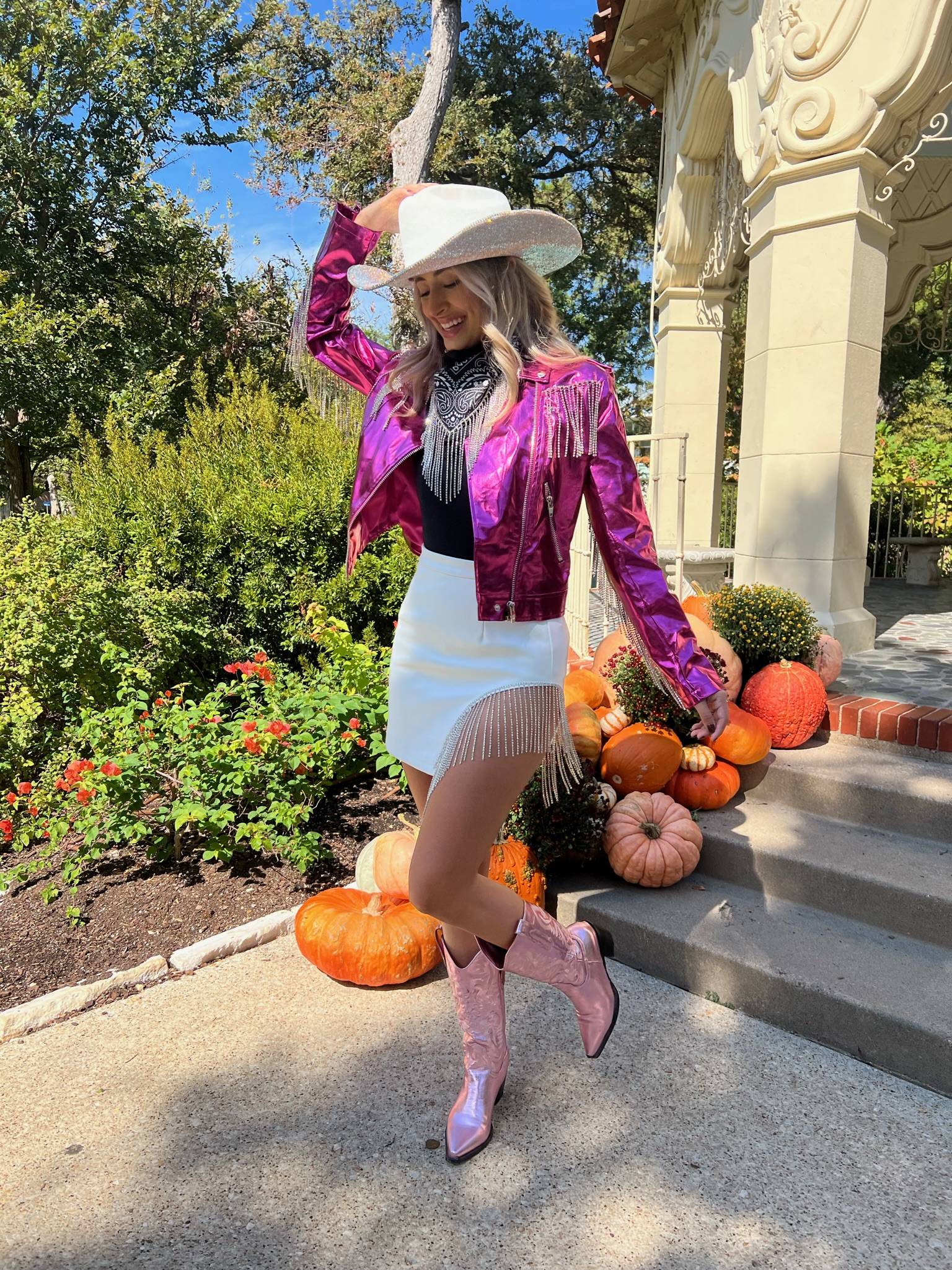 The rhinestone cowgirl theme is having a MAJOR moment and we are more than here for it! Lucky for us, and everyone, BuddyLove introduced TONS of crystal fringe pieces this year. These are the perfect statement styles to spice up any outfit or, create a spot-on rhinestone cowgirl Halloween costume! Between crystal fringe leather mini skirts, metallic moto jackets, and daring denim, the possibilities for this costume are endless!
For a more casual rhinestone cowgirl vibe, our Elvis crystal fringe denim shorts are the perfect starting place for building your costume. You could go many different directions with your top. For even more shine, add our Girly Girl rhinestone crop top or a sequin top from our Sugar or Spicy two-piece sets. We opted for the Joan vegan leather bodysuit in Magenta pink, topped off with our best selling crystal fringe leather Rife moto jacket. Accessorize your costume with a pair of tall white cowboy boots and large rhinestone statement earrings!
If you are a go-all-out Halloween gal, finding your inner Dolly Parton is easy with BuddyLove styles! Inspired by the rhinestone cowgirl Queen herself, our second costume idea hits all the notes. We started with our latest crystal fringe Rife jacket in metallic Electric pink vegan leather worn over our Basic B bodysuit, and crystal fringe vegan leather Showgirl mini skirt. Adding eye-catching accessories really tied this entire look together! The Shania crystal bandana scarf, Danilo metallic western boots, and @officialrhinestonecowgirl hat added the extra bit of *oomph* this Halloween costume needed!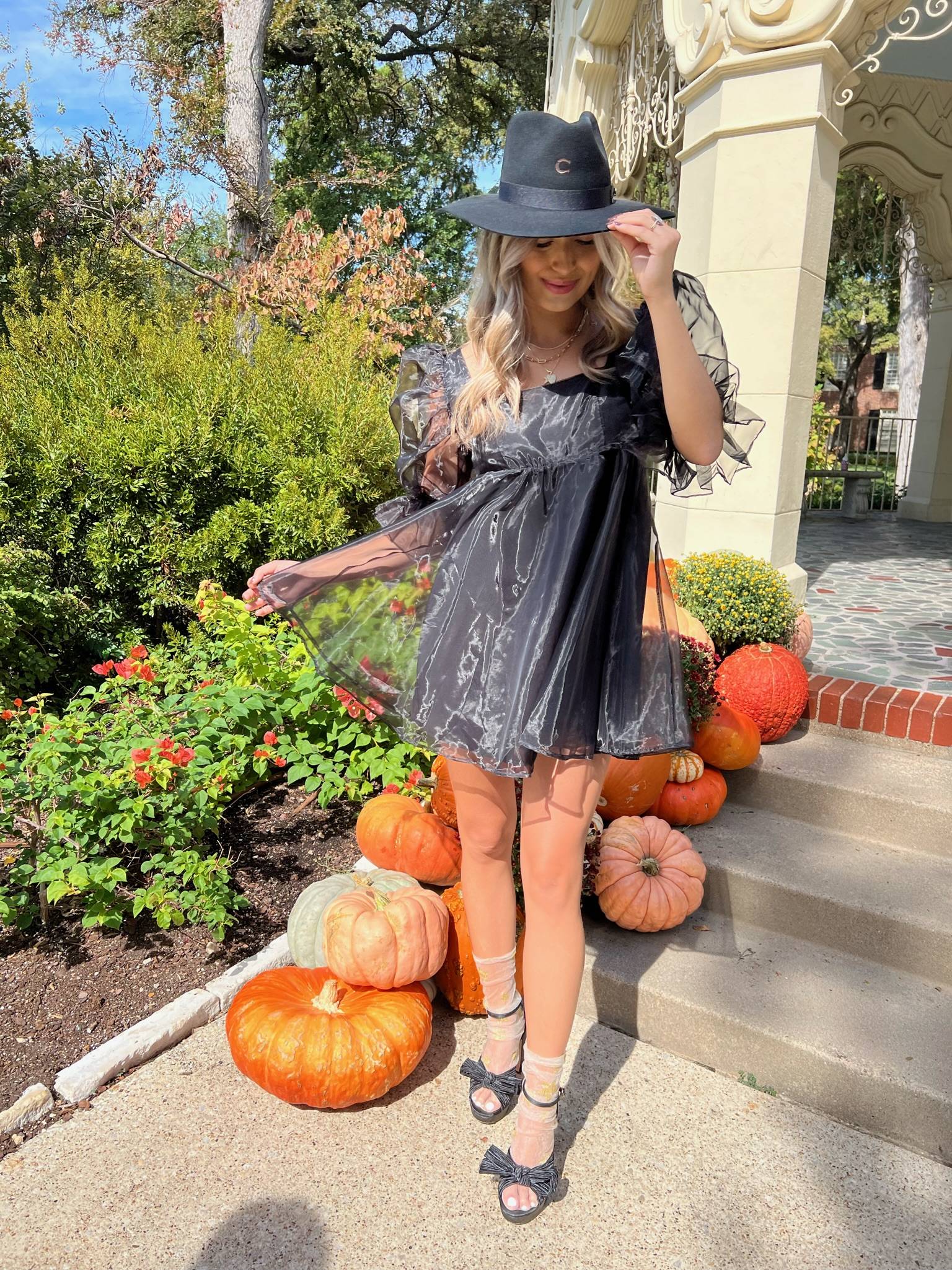 When you need a last minute Halloween costume, you can't go wrong dressing up as a timeless witch! Chances are, you already have something in your closet to quickly create this look!
The beauty of an average witch costume is the option to do the bare minimum or, go all out with the right accessories! For this look, we kept it simple with our Betsy mini dress in Raven, added a black wide brim hat we already had, and a pair of black heels jazzed up with sheer gold star socks. Easy. Cute. To the point. Sometimes that is all you need!
Upgrading this Halloween outfit is almost equally as simple! All you need is a classic witch broom and pointed hat. If you really want to cast a spell on the spooky holiday, there are so many magical witch characters to choose from, each with particular styles. From Glinda the Good Witch, to the Wicked Witch of the West, to the Hocus Pocus sisters, there is a witch costume for everyone!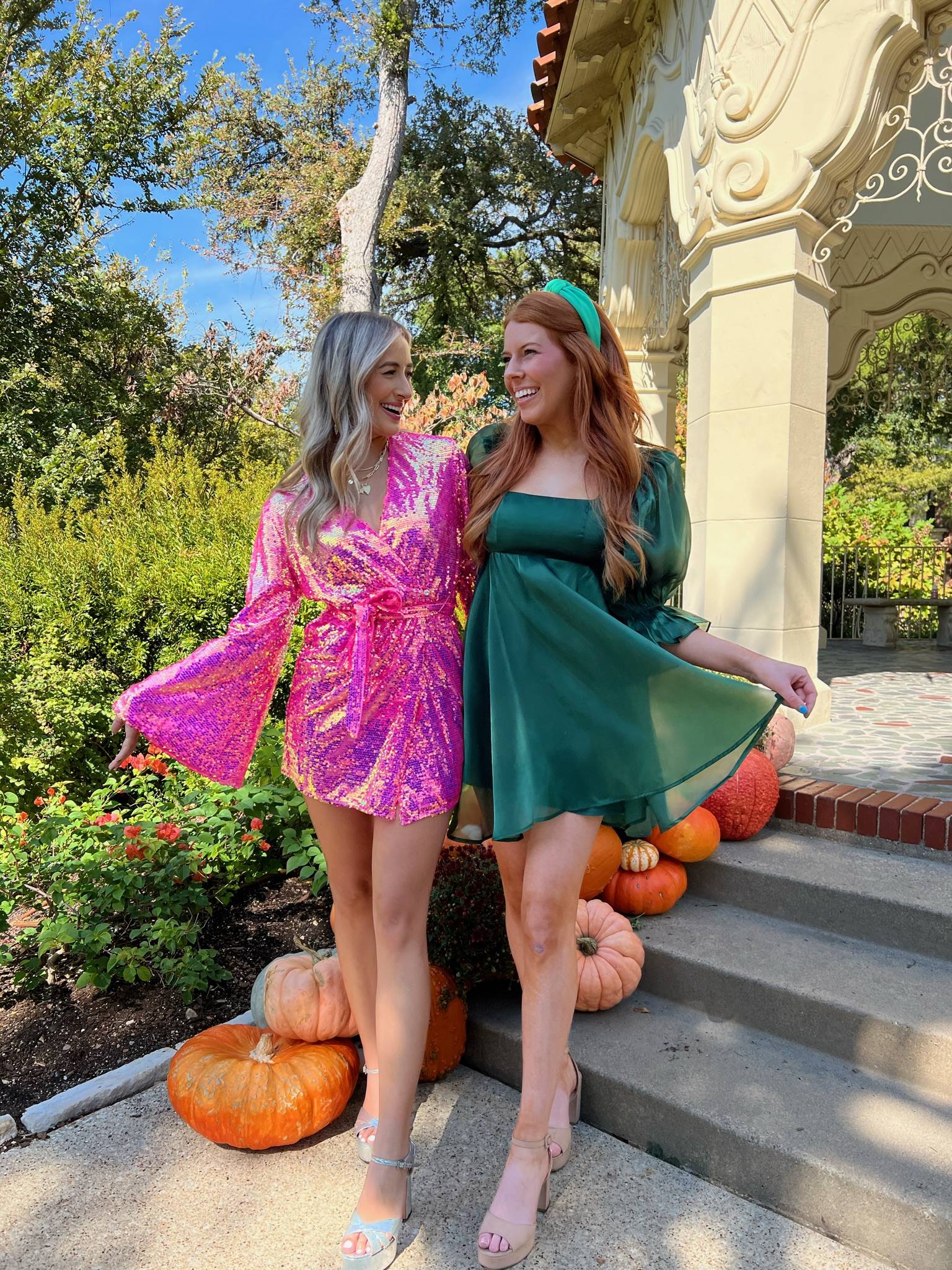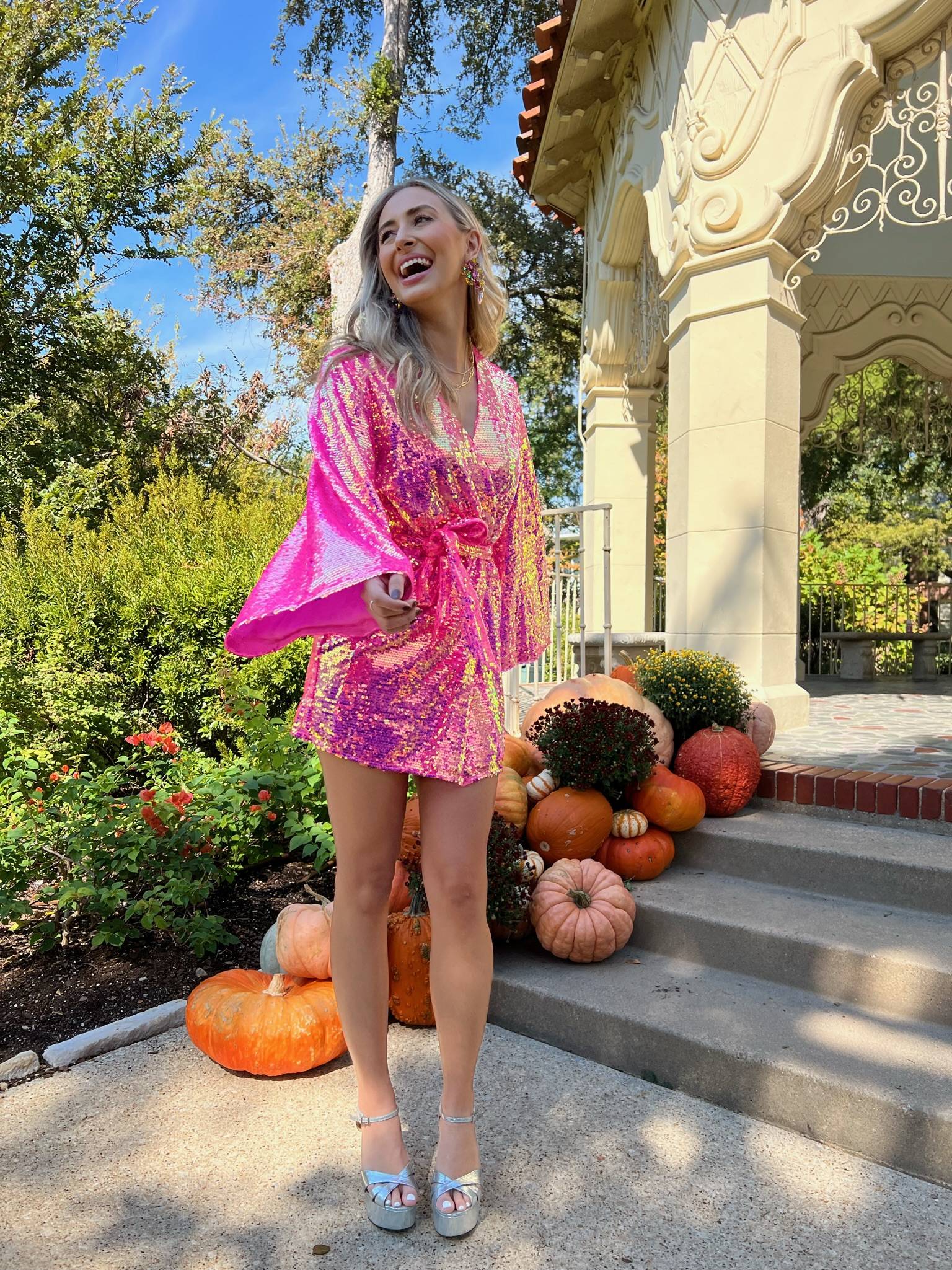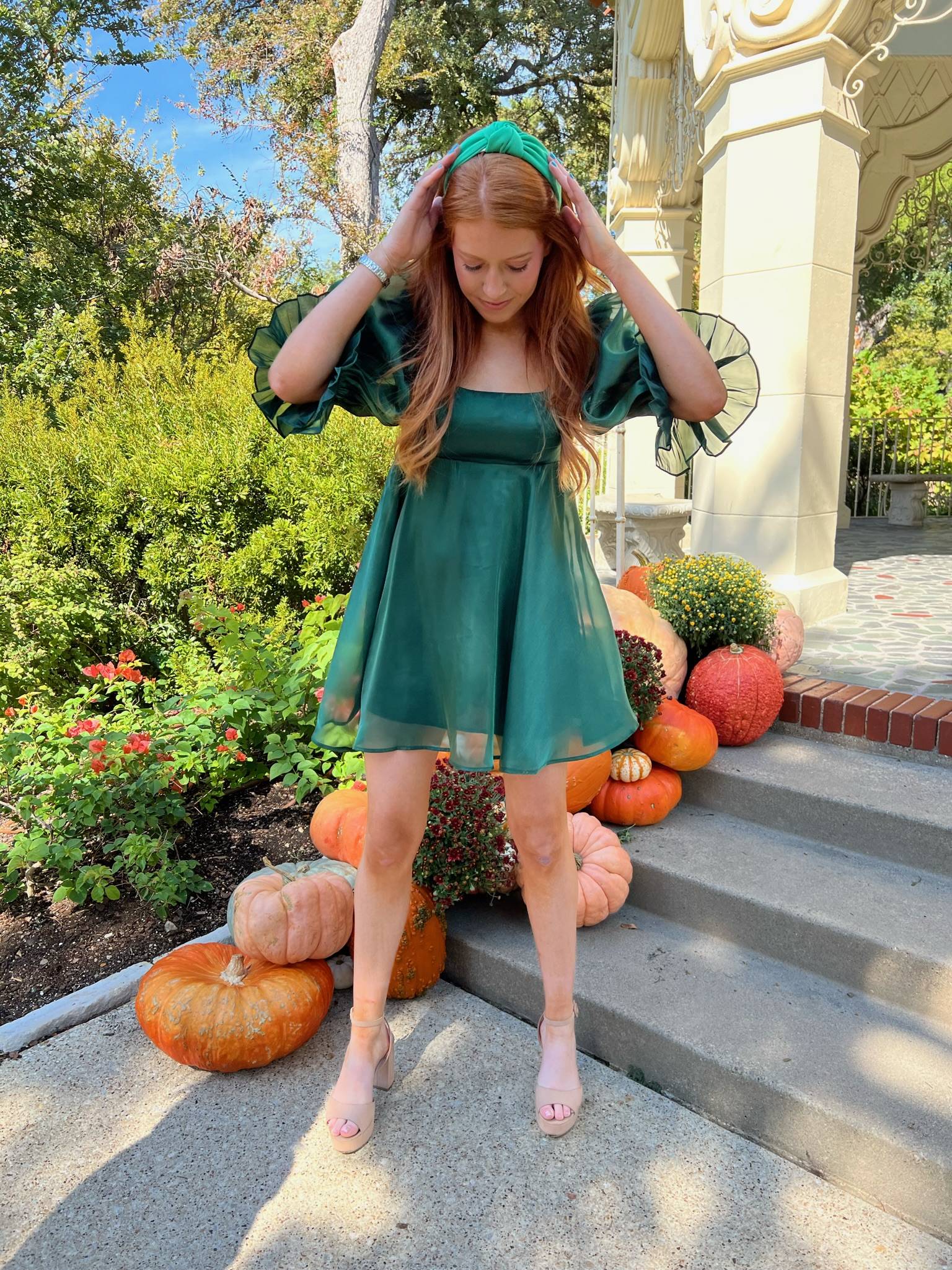 As an ode to one of our favorite childhood shows, The Fairly Oddparents, we modernized Cosmo and Wanda's everyday looks and made them our own! This is another Halloween costume you and your bestie can throw together in a pinch!
For Wanda, we decided to glam her up with lots of sparkles and sequins! Our Lynlee mini wrap dress in hot pink Taffy sequins was the perfect piece for this look! Add a pair of metallic platform heels, rhinestone statement earrings, and bold makeup for Wanda 2.0!
Yes, technically Cosmo is Wanda's husband but, it's 2022 and we can do what we want. And what we wanted was a BFF costume to celebrate Halloween! We swapped Cosmo's pants for our Betsy mini dress in Dublin green, threw on some nude platform heels, and topped off our look with a chic green headband!