Snow, Sand, or City? Top Outfits For Every Destination
Snow, Sand, or City? Top Outfits For Every Destination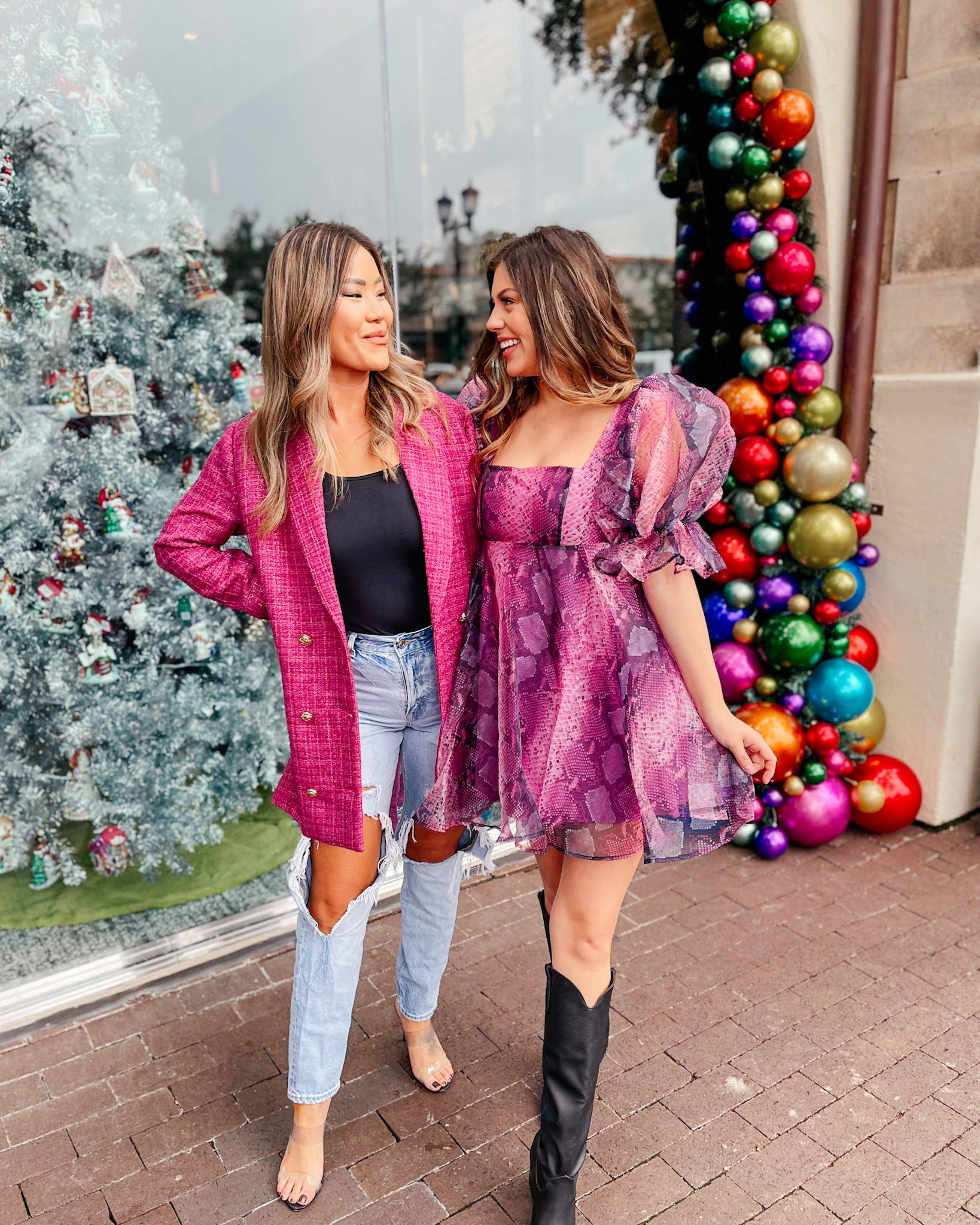 Whether you're headed to the snow, sand or city, pack with BuddyLove! With high quality pieces that will take you from the snowy mountains, to white, sandy beaches, to the hustle and bustle of a big city, BuddyLove will keep you stylish and chic. We have rounded together our top style picks for every destination on your vacation bucket list!
SNOW | Aspen, Jackson Hole, Salt Lake City
If you are someone who loves to experience everything the winter season has to offer - snowy mountains, skiing, cozying up by a fire - and are headed somewhere like Aspen, Colorado, Jackson Hole, Wyoming, or Salt Lake City, Utah, BuddyLove has THE perfect cold weather gear! We have taken those often boring and bland winter clothing necessities and added the BuddyLove flair. Think bright colors, bold textures, and unique details on warm coats and cozy sweaters!
If you want to stand out during your cold weather getaway, (and after), make sure to leave room in your suitcase for our top picks!
First on our list for staying warm in the snow is the Skylar fringe faux fur jacket. While available in four chic colors, we currently can't get enough of this coat in Hot Pink! Skylar is complete with a front zip closure, two side pockets, and fringe detail across the front, back, and down the sleeves.
Next up, our Addison puffer coat in metallic Champagne Pop colorway proves to make a major statement! Hitting the ski lift in style has never been easier. Addison features a front zip and button closure, two side pockets, and is made of soft vegan leather.
If you are reallllly looking to stand out against the snow, our Happy faux fur jacket in Morning Sky neon stripes was made for you! Apres ski in style with this bold coat. The Happy jacket includes three front button closures, two side pockets, and all the main character energy!
Go for bold and layer your cold weather outfit with the Hadley knit sweater in Citrus yellow! This classic knit sweater features a slightly oversized fit, soft and stretchy material, and is available in Citrus yellow, Ultra hot pink, and bright Teal.
SAND | Palm Beach, Cabo, Santa Monica
For all the Babes planning to swap the winter cold for a hot and sunny beach destination, BuddyLove has warm weather looks for you! Winter trips to places like Palm Beach, Florida, Cabo, Mexico, or Santa Monica, California is a snowbird's dream! Get your spring/summer wardrobe ready early and shop our top style picks for a beach vacation.
A dress that screams "take me to the beach," is 100% the Anastasia midi dress in Palm Pretty print. This feminine and flattering dress features short flutter sleeves, a smocked back panel, and pockets.
The Pamela maxi dress is a fan favorite thanks to her breezy, lightweight fit and material. She can be dressed up or down for a simple, yet chic vacay look. Pamela features a v neckline, elbow length balloon sleeves, and two side slits.
Our Essie top in Strawberry Lemonade pattern was made for sunny days! Essie highlights short puff sleeves with ruffle shoulder detailing and a loose fit. Style Essie with cut off shorts or white denim for a vacation look!
Our must-have style for a beach vacation is the Miller caftan maxi dress in Free Spirit pattern. Miller features a v neckline with adjustable ties at the collarbone, side slits, short flowy sleeves, and an overall breezy fit.
CITY | New York City, Los Angeles, Dallas
For a swanky, holiday vacation in a big city like New York, New York, Los Angeles, California, or Dallas, Texas, we have top tier outfit choices to make heads turn! Our top picks include all things that shimmer, bold fabrics and materials, complete with unique details.
For a trendy and fun look, our Giselle pleated tulle top is the perfect style to complete your outfit for a fancy date night or festive evening of sight-seeing. Giselle is a strapless top with an elastic band to keep her up and features tulle fabric pleating throughout with a peplum fit.
If you are looking to shine all night, BuddyLove's Girly Girl rhinestone crop top was made for you! Covered in small rhinestones from top to bottom, Girly Girl features bra clasp closures down the back, sparkling spaghetti straps, and a cropped fit.
For a chic, classy outfit of the night, our Colby mini dress in Koi pattern is our top choice! Made of shiny black material with gold accents, Colby features a sweetheart neckline with adjustable bust tie, short puff sleeves, and a babydoll fit.
Lastly, a MAJOR statement moment can be achieved in our feather Celeste mini dress. Celeste has a strapless, bodycon fit with a top elastic grip to keep her in place all night, and offers enough stretch to hug in all the right places.