Napa Valley Girl's Trip Packing Guide
What to Pack for a Girl's Trip to Napa Valley, California!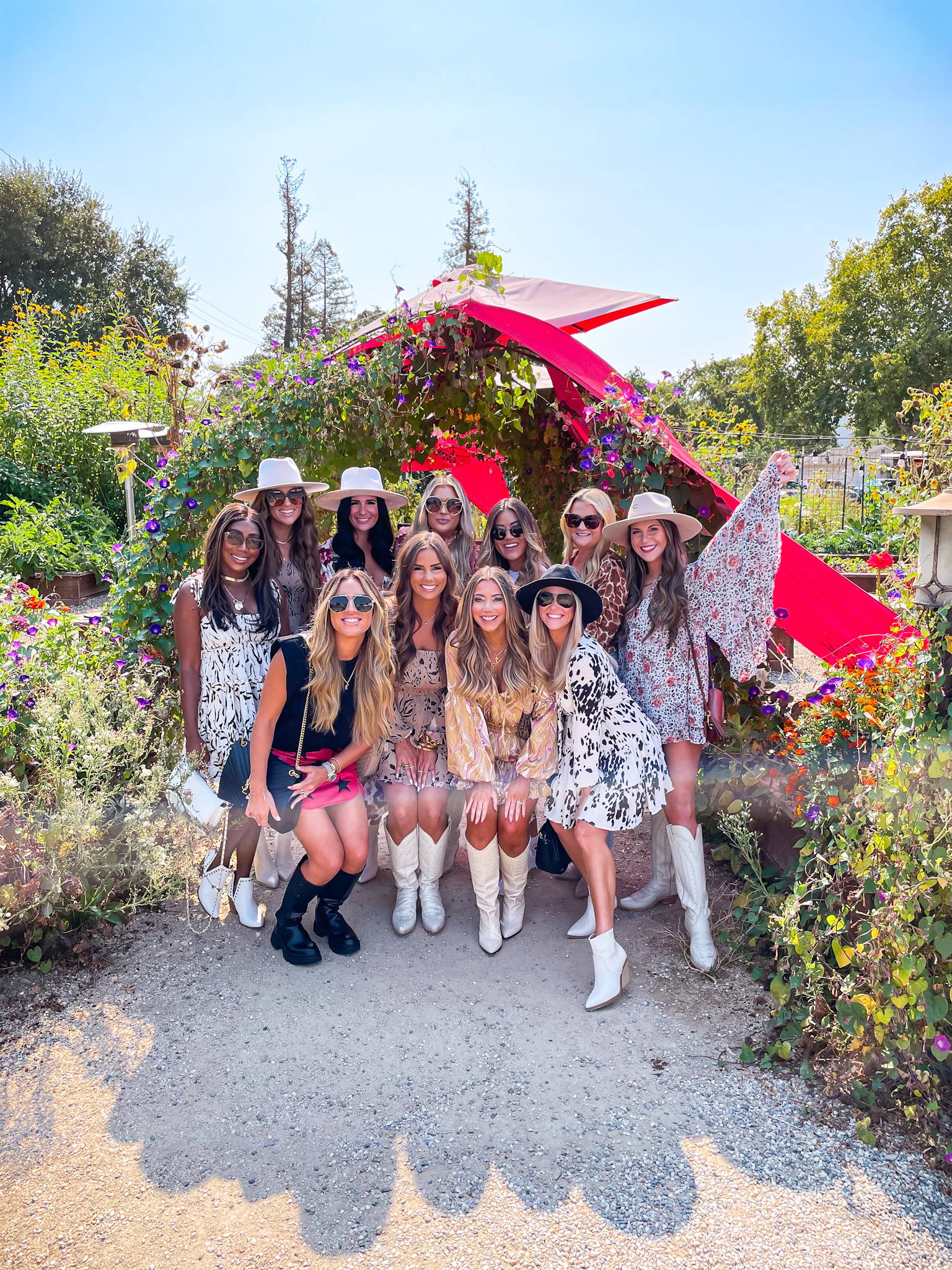 The BuddyLove Brand Team is headed back to Napa Valley, California to end this summer with a bang! We are bringing along some of our favorite BL Influencer Babes to celebrate a successful season, shoot *ALLLL* the content and, of course, sip on all the incredible wines Napa has to offer.
If you have been following all things BuddyLove for awhile now, you may remember our influencer trip to California's Wine Country last September. We had such an amazing time, we knew Napa had to be added to our list of travels for 2022!
Napa Valley is one of our top suggestions to add to your bucket list if you have yet to experience the hundreds of hillside vineyards, legendary restaurants, and impeccable views everywhere you turn.
Ranked as the number one wine destination in the U.S., Napa County is made up of several small towns that cover a span of 30 miles. Each town holds unique qualities, experiences, and world class wineries and cuisine.
Regardless of when you plan to visit Napa Valley, you can count on BuddyLove to bring you the latest and greatest pieces for sipping wine in style! Today, we are sharing what the BabeCrew is packing for their upcoming week in California. Including everything from top picked outfits, accessories, and style tips, consider this post your master checklist when packing for a girl's trip to Napa Valley, California!
*DISCLAIMER*: We are all about a mid-day + pre-dinner outfit change. Buckle up for some ultimate wine tasting outfit inspo!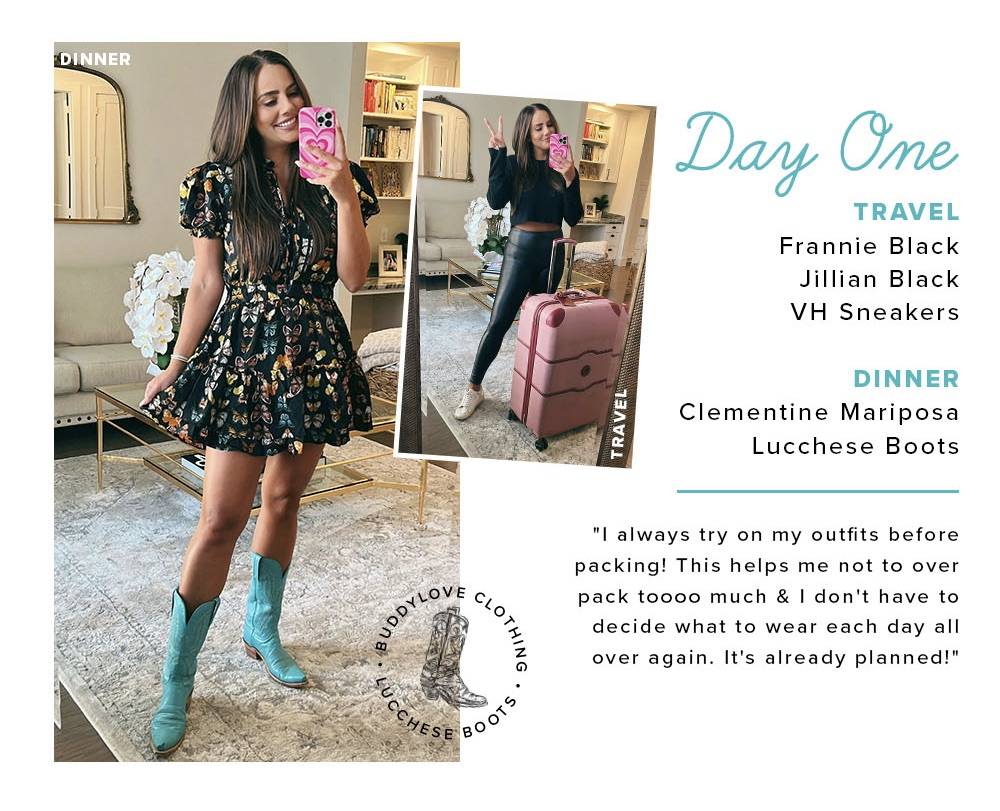 Our Sr. Brand Director, @buddylovesrachel, is the BabeCrew's expert outfit packer! Rachel broke down all of the must-pack outfits when jetting off for a girl's trip to Napa Valley. Let's dive in!
*PRO-TIP: Try on your outfits before securing their spot in your suitcase! This will help you avoid overpacking and spending too much time deciding what to wear once you've reached your destination!
DAY ONE
Travel Outfit
If your first day in Napa will be half spent traveling, we recommend starting off the trip in style with a comfortable, yet chic, airport outfit. Every last member of the BabeCrew has worn our lustrous Jillian leggings for a day of travel! These shine coated leggings pair well with just about everything but, for those long travel days, we opt to style the Jillians with a simple, lightweight top. *Cue our new Frannie cropped top!*
The Jillian leggings highlight a shiny, faux leather look with a high-waisted fit, stretchy but fitted material, and full ankle length. These pants take your basic black leggings to the next level with maximum comfort and shine!
Our all new Frannie top will be one of your most-worn pieces of the season. Trust us. Available in black Ink, White, and tan Fawn, any of these colors could be worn with the Jillian leggings! The Frannie long sleeve top is buttery soft with a cropped, loose fit.
Complete your travel look with a pair of trendy sneakers and simple stud earrings for cool-girl airport vibes!
Dinner Outfit
Yay! You made it! The first day of vacation never fails to be filled with an abundance of excitement. Aim to turn heads for your first night out in Napa Valley with our Clementine mini dress in the iconic Mariposa butterfly print!
Our Clementine dress has all the fun and flair for a girl's trip! Spotlighting a ruffle tiered skirt, short puff sleeves, adjustable cinch waistband for the perfect fit, and v neckline with pleated detailing, this silhouette is elevated even more in our Mariposa print.
Style this flirty mini dress with a bright heel or boot to accentuate the bold colors of this boho butterfly print! Catch @buddylovesrachel standing out in the Clementine Mariposa accessorized with a legendary pair of turquoise Lucchese cowboy boots!
Are you ready for a full day of wine tastings and site seeing?! To that, @buddylovesgrayson would say, "Does a bear shit in the woods?!"
If the BabeCrew is waking up in wine country, you can bet we will be nothing short of giddy and eager to get going. For you first full day in Napa Valley, let your outfits match your lively energy!
We say outfits because of course a mid-day 'fit change is in order. Though this may seem excessive to some, the BuddyLove Babes can't help but match the different aesthetics each winery and restaurant have to offer!
Floral patterns are all the rage for fall. Our bold Viola floral print and delicate Vintage floral print are the perfect options for Napa Valley in September! Each print comes in various silhouettes to vibe with everyone's individual style. Now, let's get into day one outfits!
DAY TWO
Stop 1
Start your morning with a mini dress that is as fun and flirty as you! Our Tammy mini dress is the #1 pick from the BabeCrew. Most of us have already snagged this flattering style in multiple prints! We love the Tammy in Viola print for exploring Napa's wineries.
Tammy spotlights large ruffle tiered panels down the skirt, subtle short puff sleeves, an adjustable tie at the bust with a small cut out detail, smocked back panel, and lightweight liner. This mini dress runs true to size and is flattering on every body type!
Style the Tammy with short black, cognac, or cream booties, or a pair of cowboy boots for a modern western-inspired look! You could even wear a pair of trendy sneakers if you prefer to stay more casual, but add a pop of glam with a crystal headband.
Stop 2
WINE down your afternoon in our bohemian Pia maxi dress! Pia is easily one of our most whimsical maxis yet. Our Vintage print highlights a delicate floral pattern throughout and will make your time in Napa even more dreamy!
The Pia maxi dress boasts small ruffle details throughout her loose long sleeves, under the bust, and tiered down her full length skirt. This boho maxi adds even more flair with a plunging v neckline, mid-thigh slits on both sides, open keyhole button closures down the back, and a lower back zipper. Pia runs true to size, but has little stretch.
Add a pair of short, neutral colored boots, a wide brim hat, and dainty necklace for your second stop in California's wine country!
We will be pulling out all the stops on our final full day in Napa Valley, California! Take a note from the BabeCrew's style book and go for not one, not two, but THREE outfit changes. Napa is the perfect destination for elevated outfits you may not get to wear during your day-to-day, and we will be taking full advantage of rocking all the BuddyLove styles we could fit in our suitcases!
Maxi dresses are an excellent style choice for September in Napa Valley. Temperatures typically range from a breezy high of 75-80 degrees, with cooler evenings dropping down to the 50s-60s range. WE LOVE!
This fall season, we have dropped dozens of unique maxi dresses. A few patterns we love for Napa Valley include our Forbidden floral print, Hollyhock ditsy floral print, and Mariposa butterfly print.
DAY THREE
Stop 1
Manifest a romantic day of wine tastings in our Desirae maxi dress! This flowy maxi dress has been a hot seller thanks to her easy, flattering fit and bold print options.
The Desirae maxi dress features a plunging v neckline with adjustable bust tie and hook and eye closures. With loose, long balloon sleeves and elastic wrists, a lightweight liner to the knee, and mid-thigh slits on both sides, the Desirae maxi dress will have you turning heads!
Pair the Desirae dress in Forbidden print with a pair of short black booties, simple bracelet stack, and gold hoop earrings for a morning of Napa Valley adventures!
Stop 2
Get ready to swoon over your outfit as much as we know you will swoon over Napa! Our Luca maxi dress is chic and elegant with a pop fun in our Hollyhock print.
The Luca strapless maxi dress highlights a breezy, full length fit that is lightweight and comfortable for an afternoon of wine pairings and tasteful cuisine! Featuring a structured v detail at the bust and inside grips to keep this dress up all day and night, Luca is a must-pack for your trip to Napa.
There are an abundance of ways to style the Luca maxi in Hollyhock print, but we love her paired with a short bootie, low bun or ponytail, and statement earrings.
Dinner
Napa Valley offers more than just world class wineries. This region of California is also known for their award-winning cuisines! The BuddyLove BabeCrew is known for going out with a bang on the last night of marketing trips, and our outfits will surely do the same!
An outfit of the night is easily elevated when you have our Crawford maxi dress! This sophisticated maxi dress offers a timeless silhouette and is even more eye catching in our Mariposa butterfly print.
The Crawford maxi dress boasts a plunging v neckline and back with tie closure, short sleeves with a wide flutter overlay that flows from the bust to to the back, thick elastic waistband for a flattering fit, and full lightweight liner.
For a chic dinner outfit, pair the Crawford maxi in Mariposa print with a pair of black velvet, or metallic gold platform heels, statement earrings, and a simple gold bracelet.