The Too Much Is Never Enough Collection
The Story Behind The Too Much Is Never Enough Collection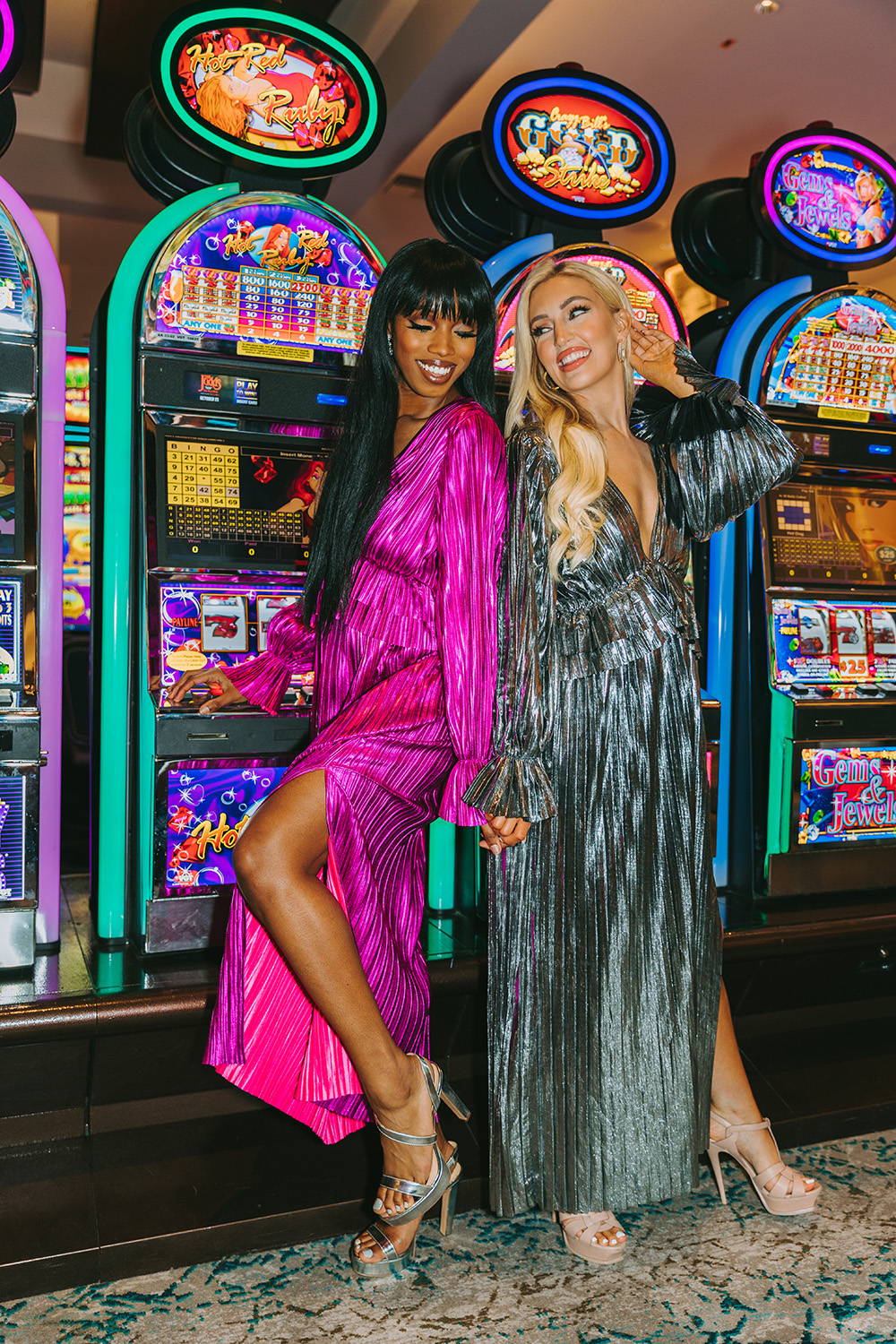 Too much is NEVER enough for the BuddyLove Babes! It is no surprise we love to stand out, and our goal for 2022 has been to ditch the sweats and turn heads everywhere we go. You no longer need an excuse for sequins, shiny textures, or bold materials!
Our Too Much Is Never Enough Collection exudes all new flashy styles with TWENTY-FOUR new arrivals for the fall and holiday season! This collection brings new twists to fan favorites like the Colby mini dress, Blakely peplum top, Travolta high-rise pants, Evie maxi dress, Fallon mini dress, and Giselle top. More so, the Too Much Is Never Enough Collection introduces brand new silhouettes like the Cyrus mini dress, Celeste mini dress, Fancy top, Powder Puff mini dress, Tally mini dress, Prairie blouse, and Queenie top.
Get ready to fill your closet with bright colorways, bold patterns, eye catching materials, flattering fits, as well as classic styles you will wear for years to come! There is something for every Babe in the Too Much Is Never Enough Collection!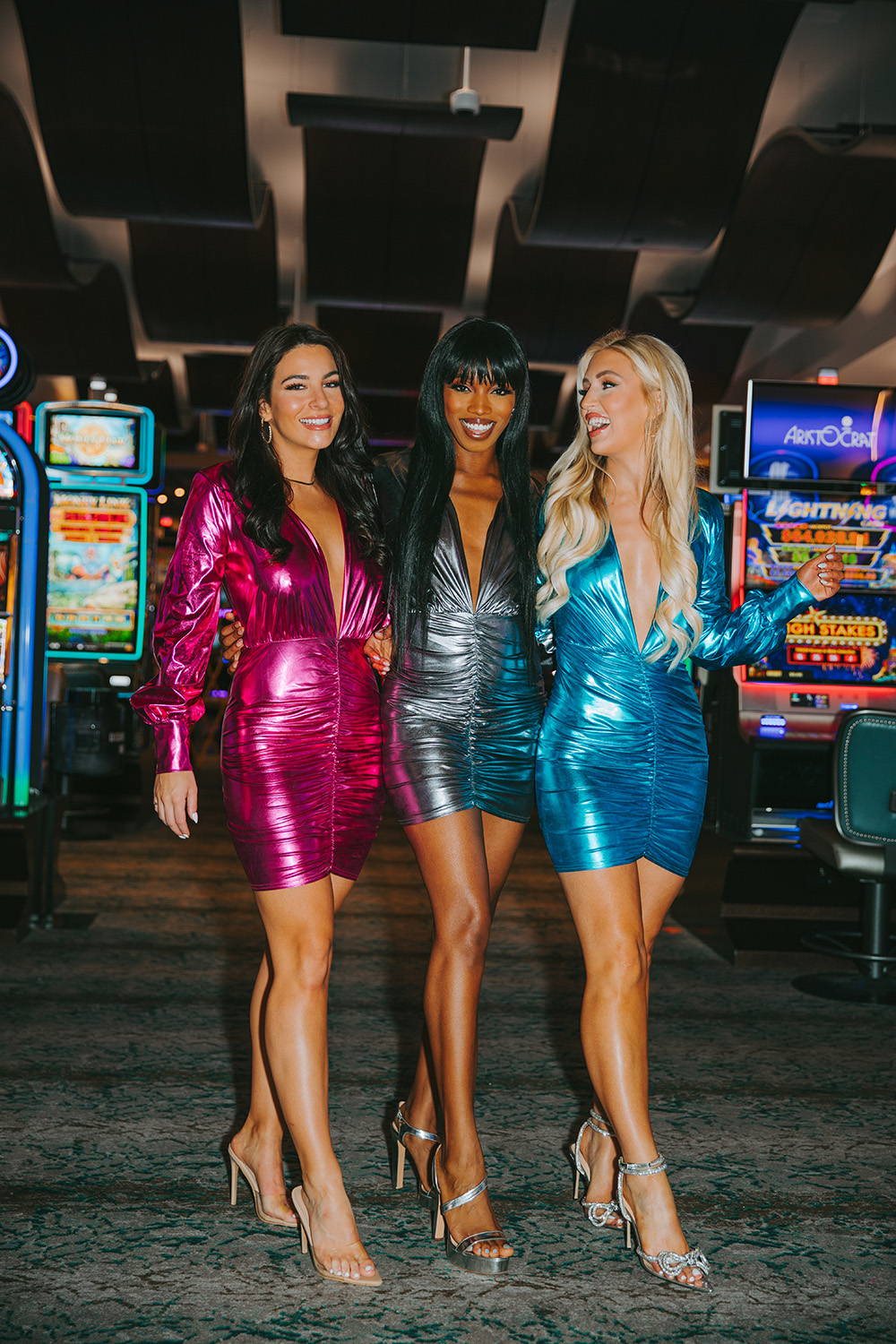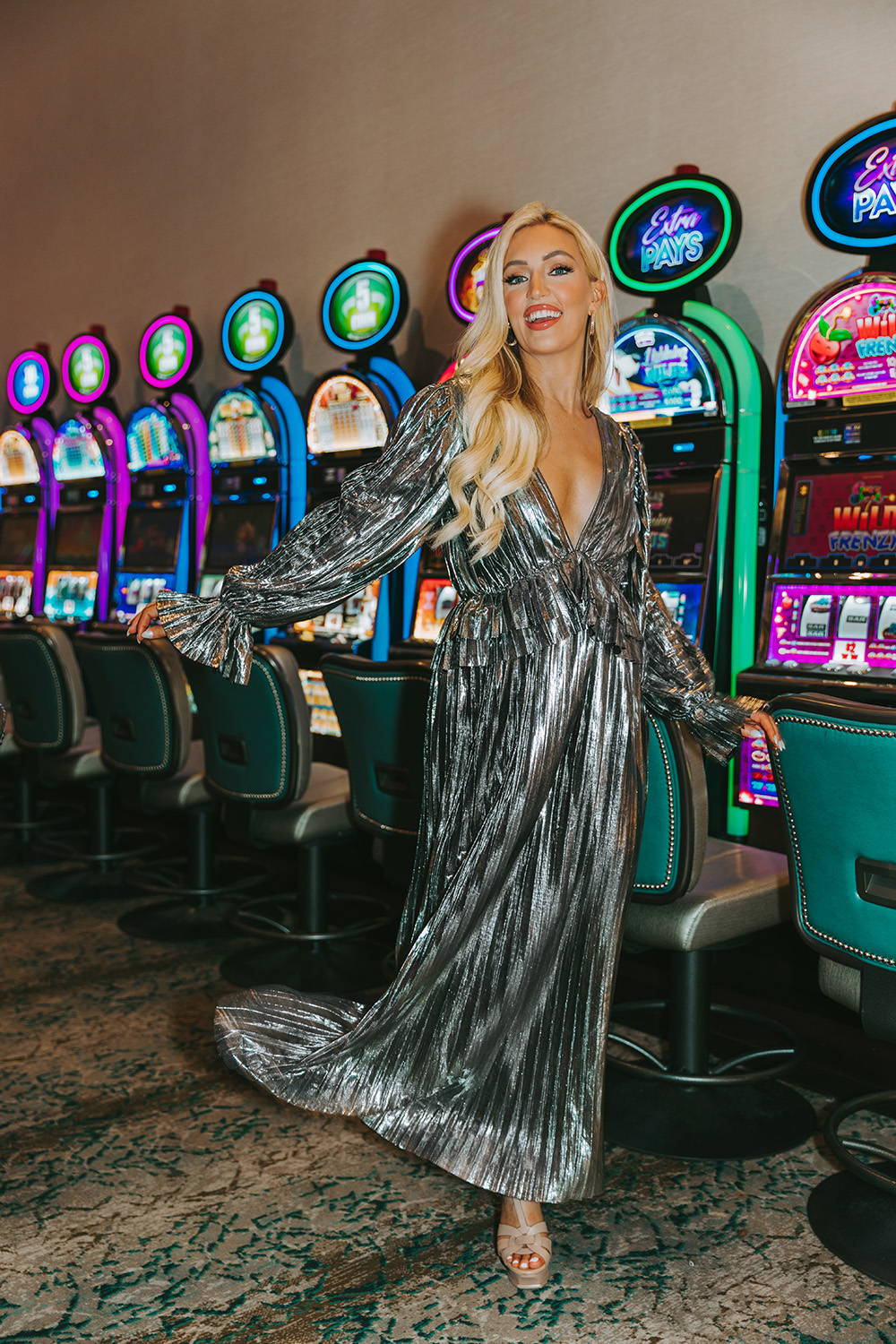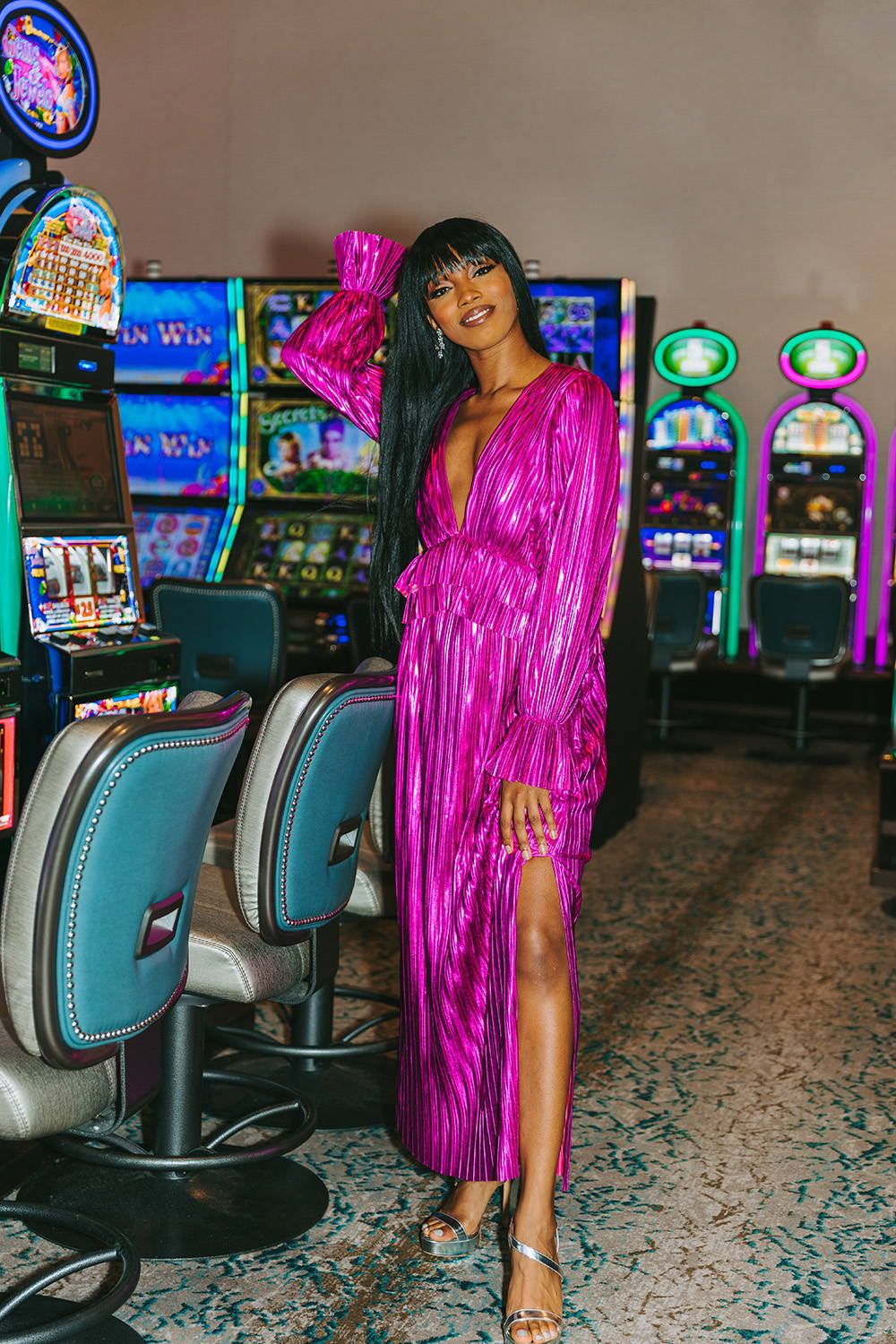 If you haven't noticed, metallics are IN for fall and holiday this year! We clearly can't get enough of new shiny materials, so we have added more to the mix with our Cyrus body-con mini dress in metallic pink Fuchsia, blue Cyan, and silver Steel, as well as the Evie maxi dress in metallic fuchsia Studio 54 and steel Disco Ball colors.
The Cyrus mini dress was made to dance the night away in! This attention grabbing mini dress highlights a plunging v neckline, cuffed long sleeves, ruched and stretchy bodice, and body-con fit. Throw on a pair of metallic heels or brightly colored pumps, statement earrings, and bold lipstick for even more flair!
Our Evie dress boasts a sophisticated fit with just the right amount of sass! You will be dressed to impress in Evie's new colorways - metallic steel Disco Ball, and metallic fuchsia Studio 54. This fancy maxi dress boasts a plunging v neckline, loose, long sleeves with a flare wrist, small ruffled waistline, and knee length slit on one side. This is the perfect unique dress for your next big party or event! We also love the Evie in Disco Ball for holiday photos with the family, or either style for the mom-to-be!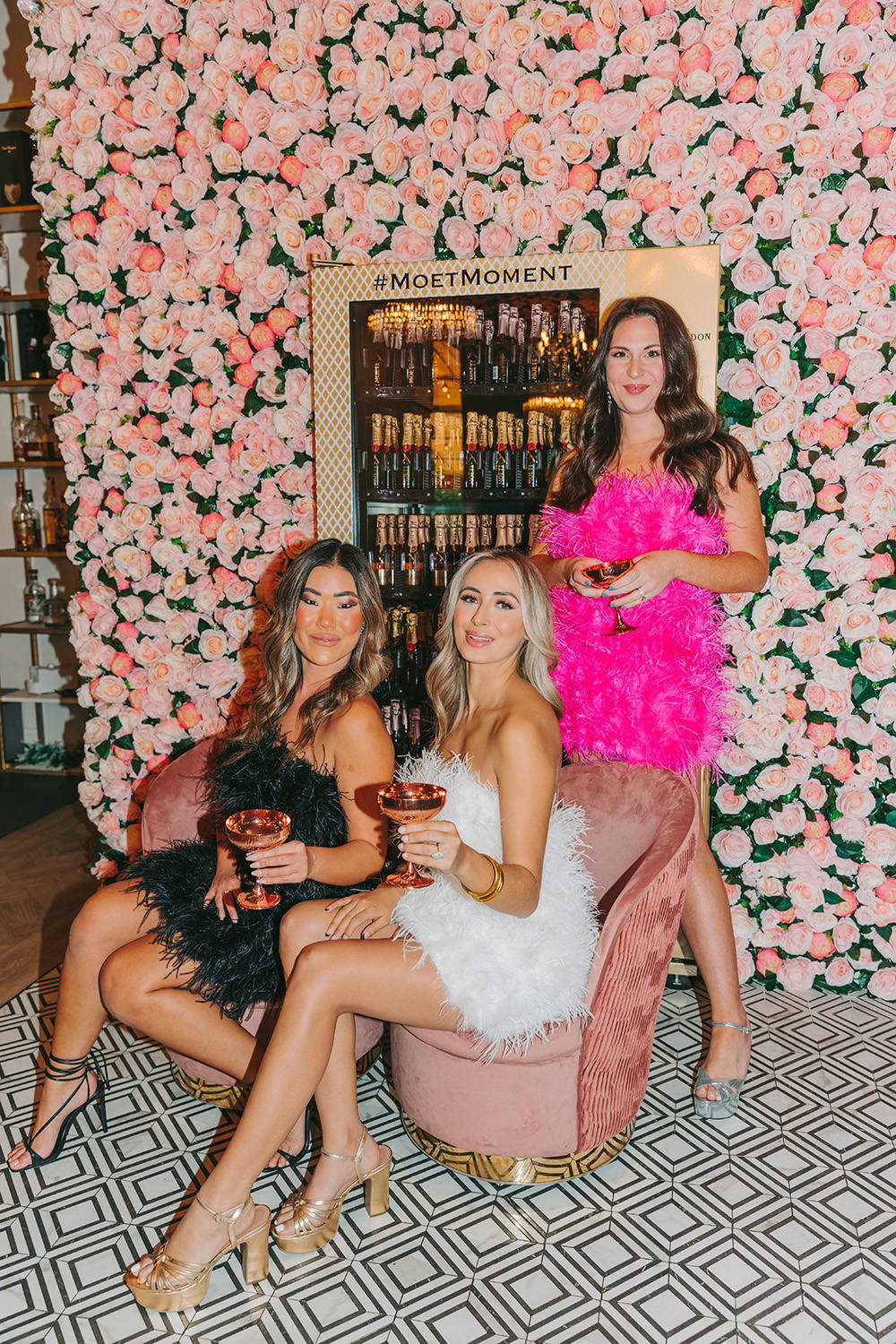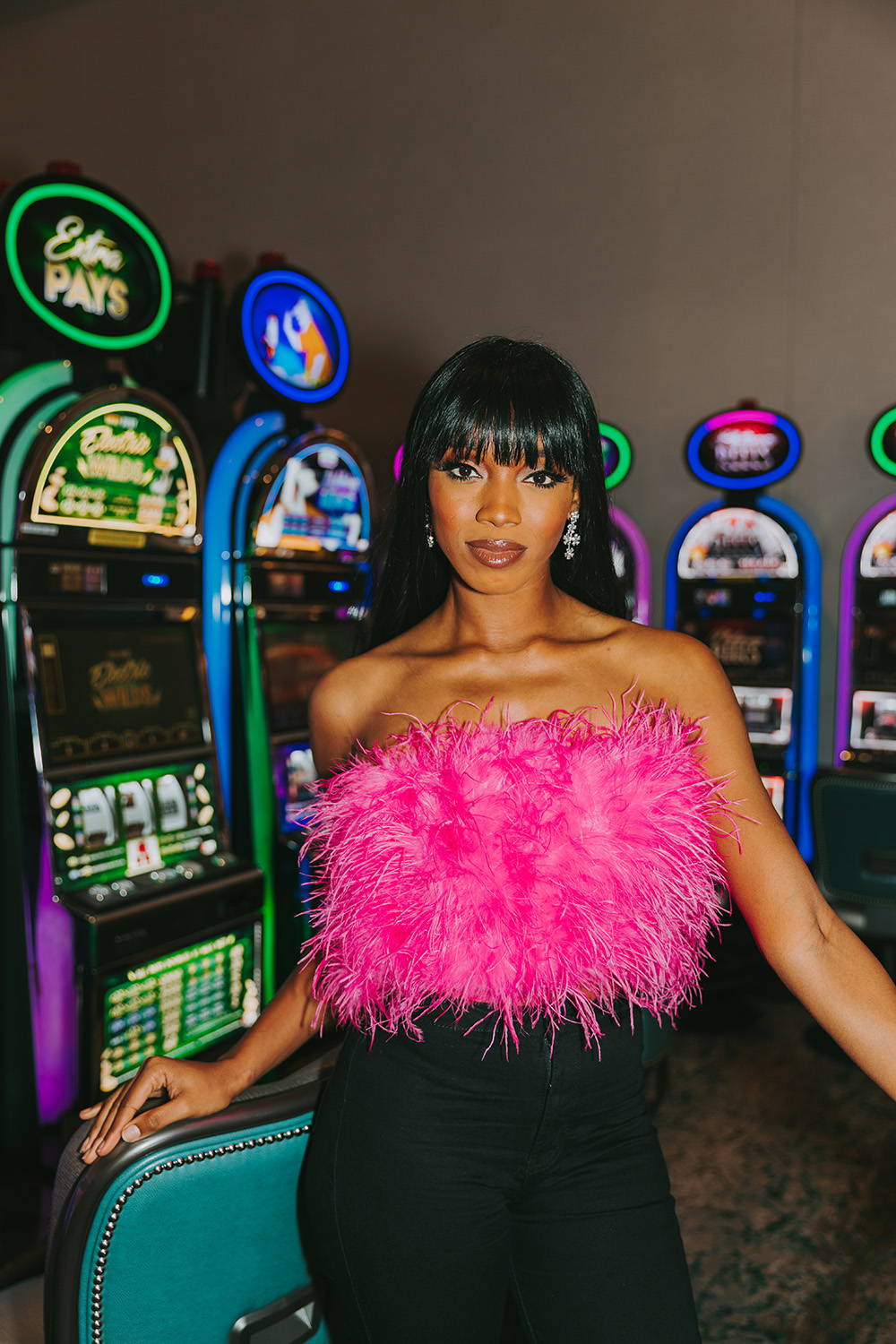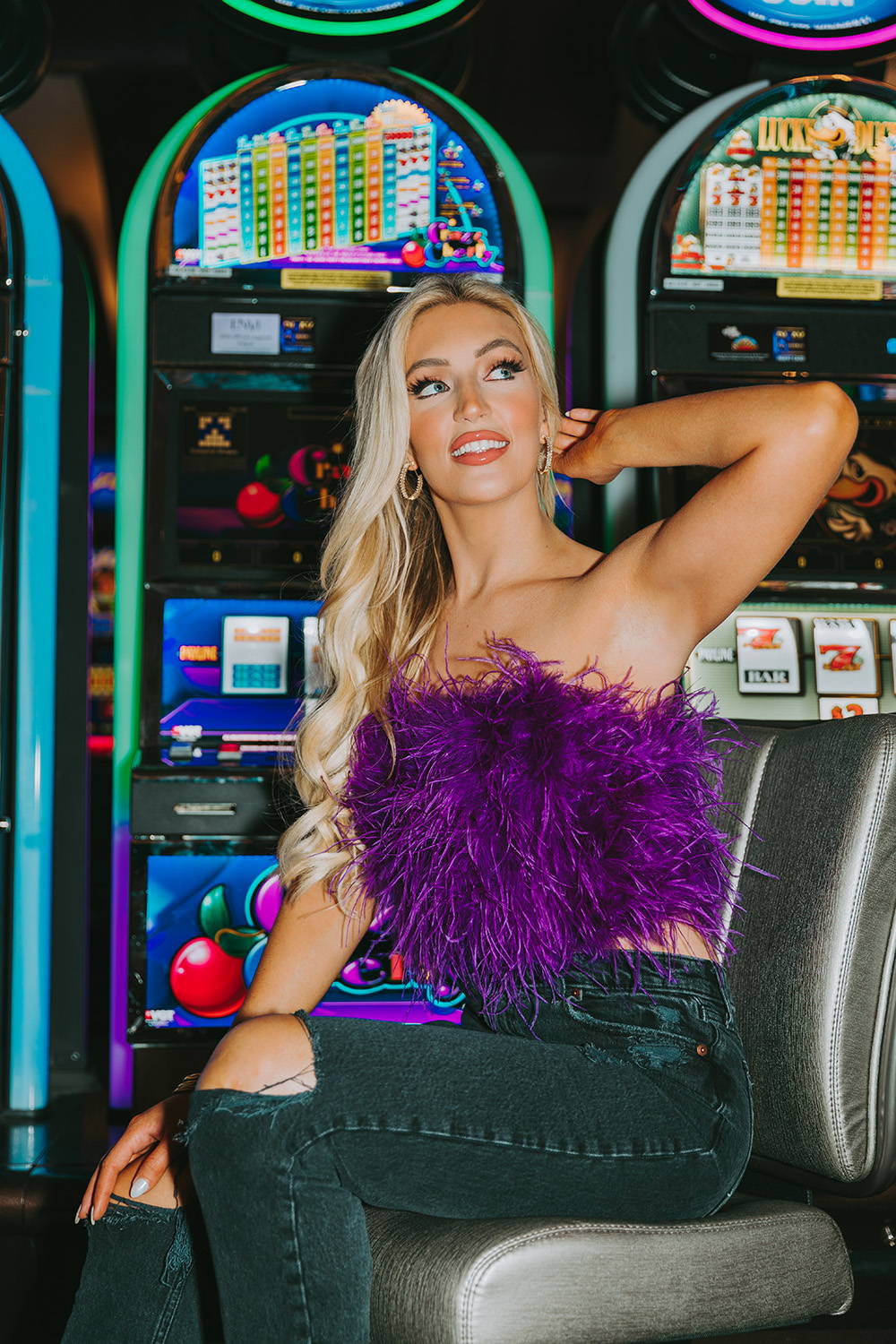 Feelin' fancy? Then roll the dice on this new trend! We are giving you NYFW styles from the runway at an affordable price, without sacrificing quality. These stately styles were made for a good time! Our new Celeste mini dress and Fancy strapless top are now available in hot pink, a deep purple, classic black, and white feathers.
The Celeste mini dress features a bodycon fit, full feathered bodice, and an elastic grip at the top. Celeste is a great match for festive occasions! Think themed parties, bachelorette trips, bridal showers, and more. With a dress this flashy, you can keep your accessories toned down with a simple strappy heel and stud earrings, or take it to the next level with a pair of metallic platform heels and statement earrings!
Our Fancy top is another jaw dropper! Covered in feather detailing with a strapless cropped fit, elastic hem to keep her up, and a good amount of stretch, the Fancy top is here to party! We love these funky tops styled with our Paulina leather leggings, pump heels, and statement earrings for a night out on the town! The Fancy feather top can also be toned down with a pair of high waist, straight leg jeans and short booties!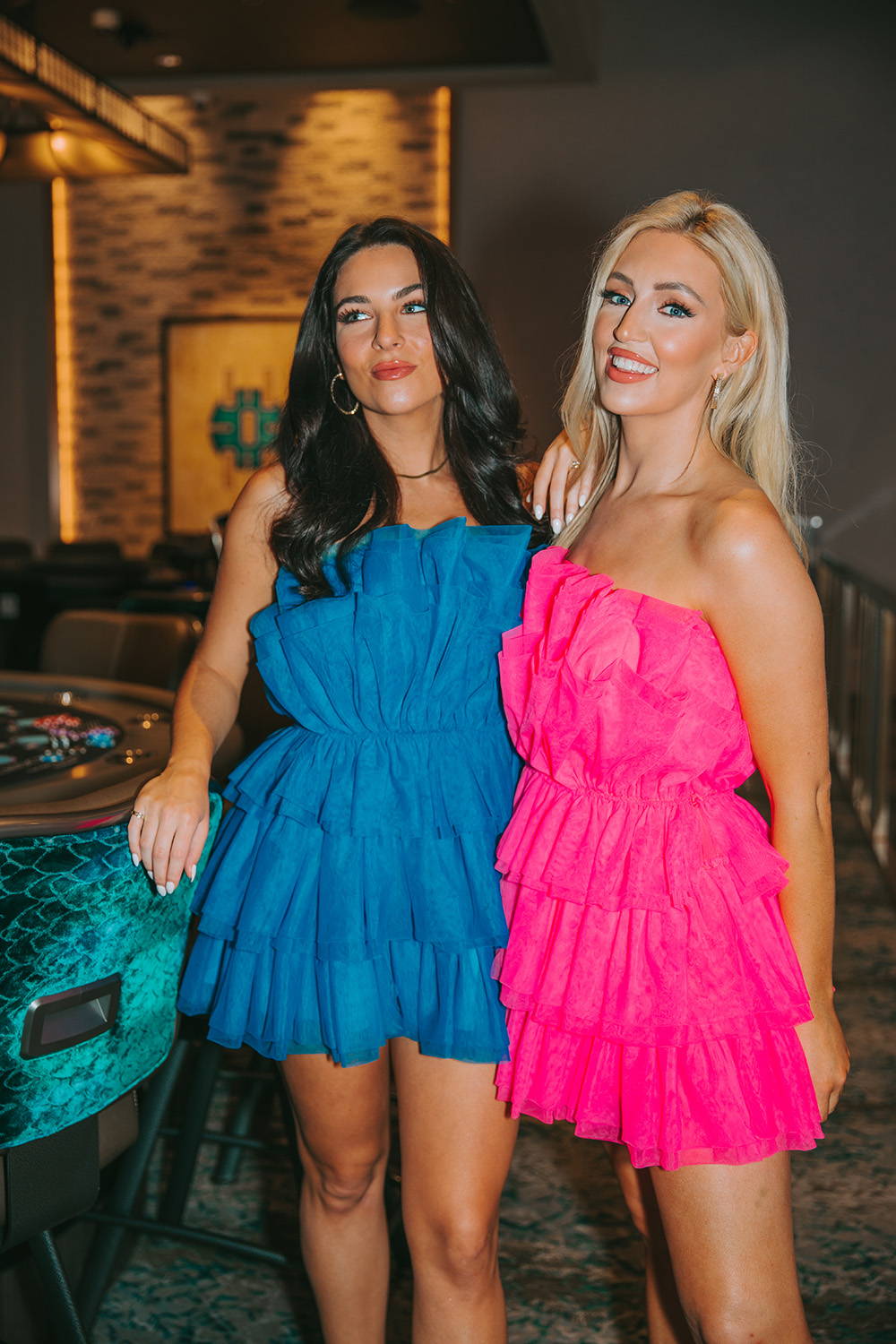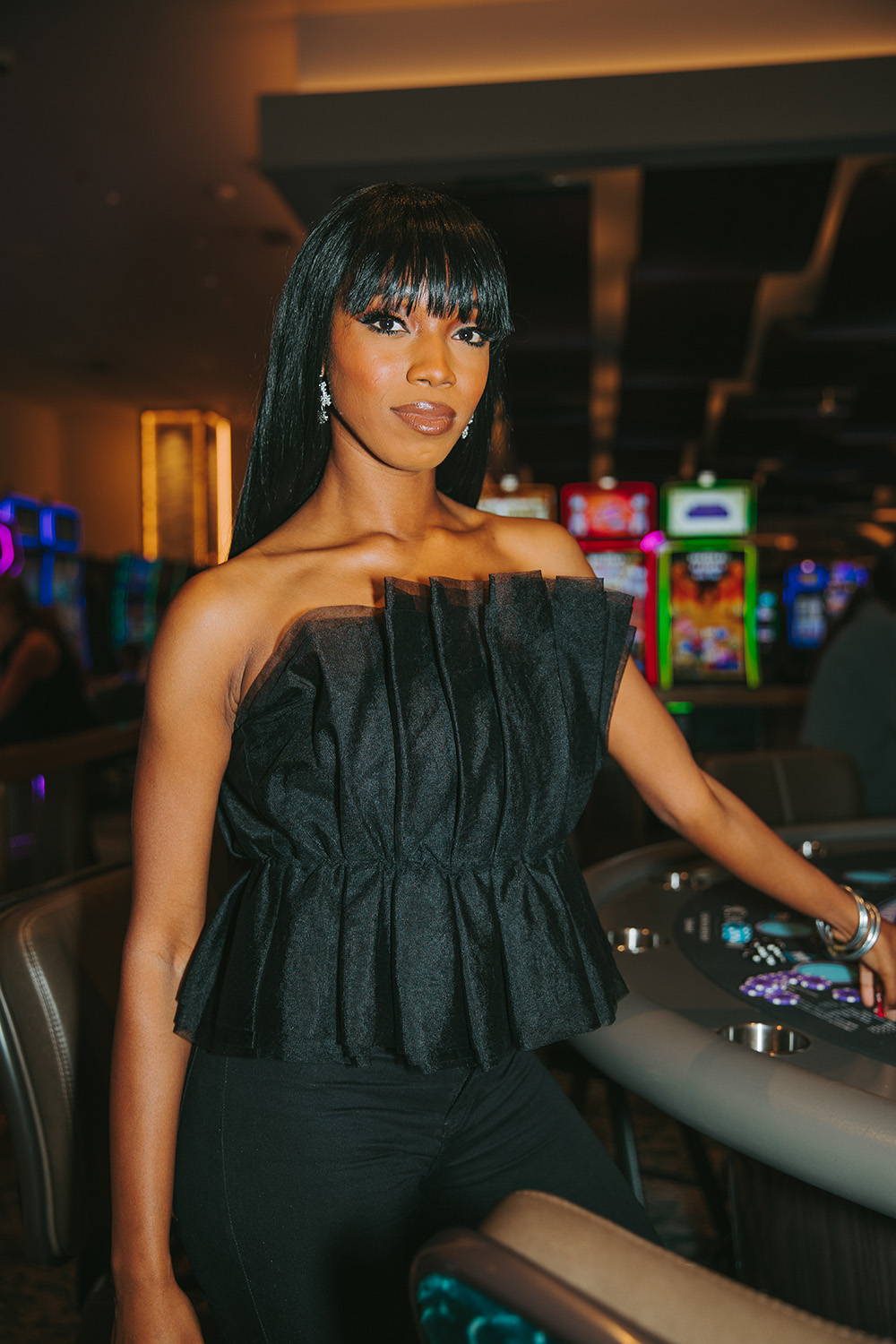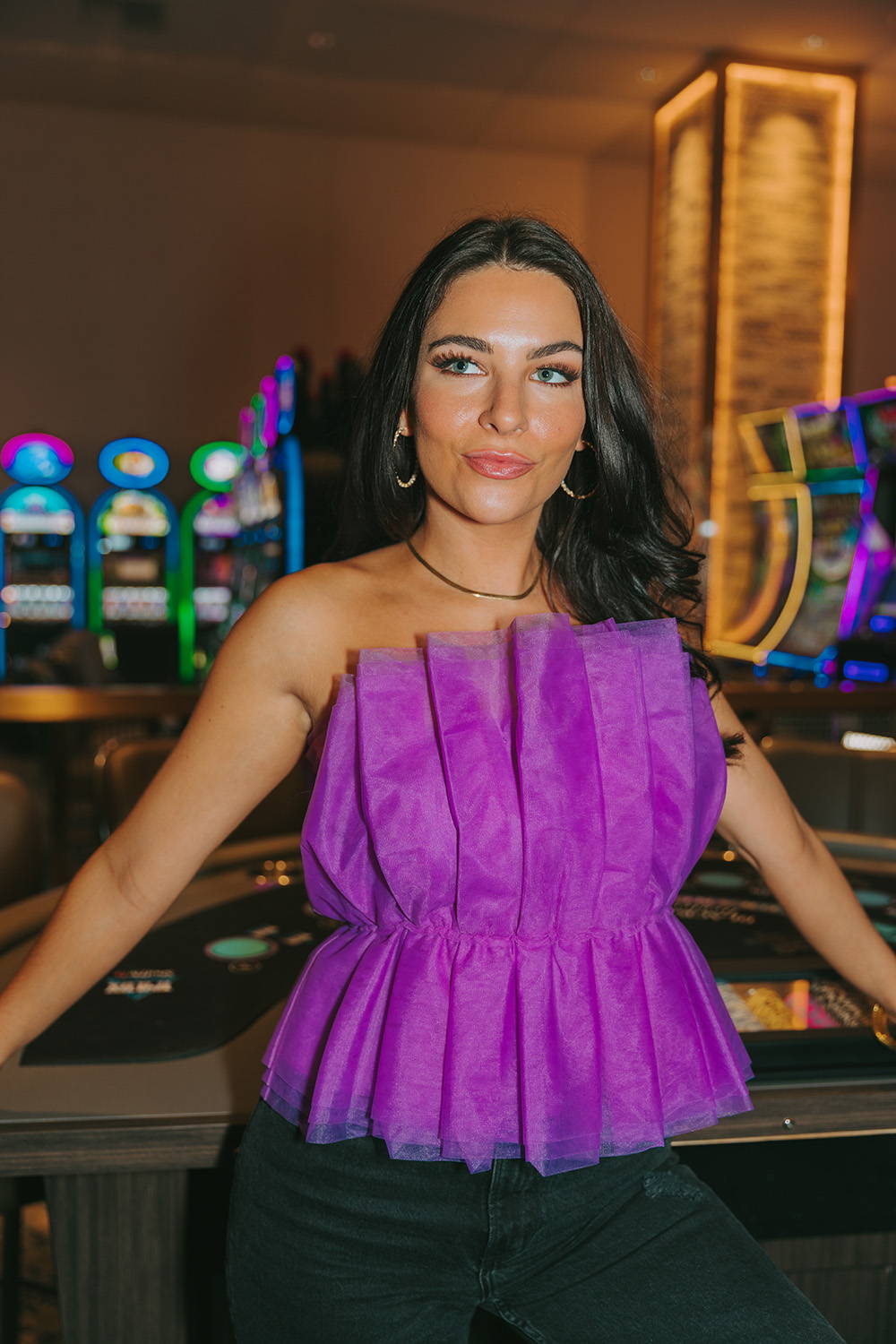 These new arrivals are pleated and pretty! Our Powder Puff mini dress and Giselle strapless top are everything bold and daring. Get ready for holiday parties and festive events by adding these to your wardrobe STAT!
The Powder Puff mini dress highlights large tulle pleats throughout with an elastic waistband to add some shape, side zipper, and elastic grip across the bust to keep her up. Add a simple short necklace, plain hoops, and platform heels for a *main character energy* outfit of the night!
Our Giselle strapless top was introduced at the beginning of the season and has been a hit! We have added some luxe to this stand-out silhouette with gorgeous organza pleating throughout. Giselle has a thin elastic band at the waist, as well as elastic grips across the front to keep her in place. Style this fun top with a pair of leather leggings and heels, or high-waist jeans for a more casual vibe!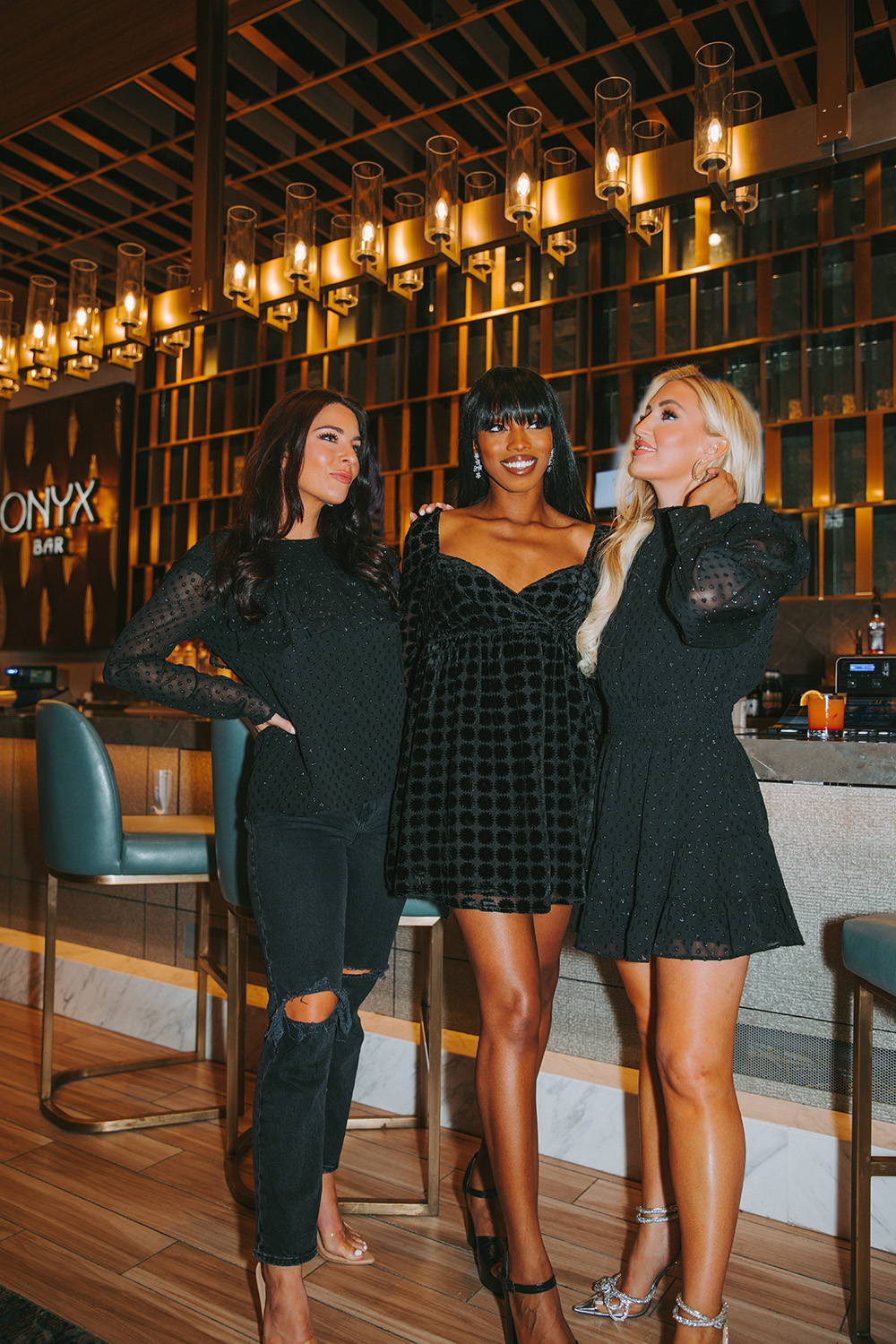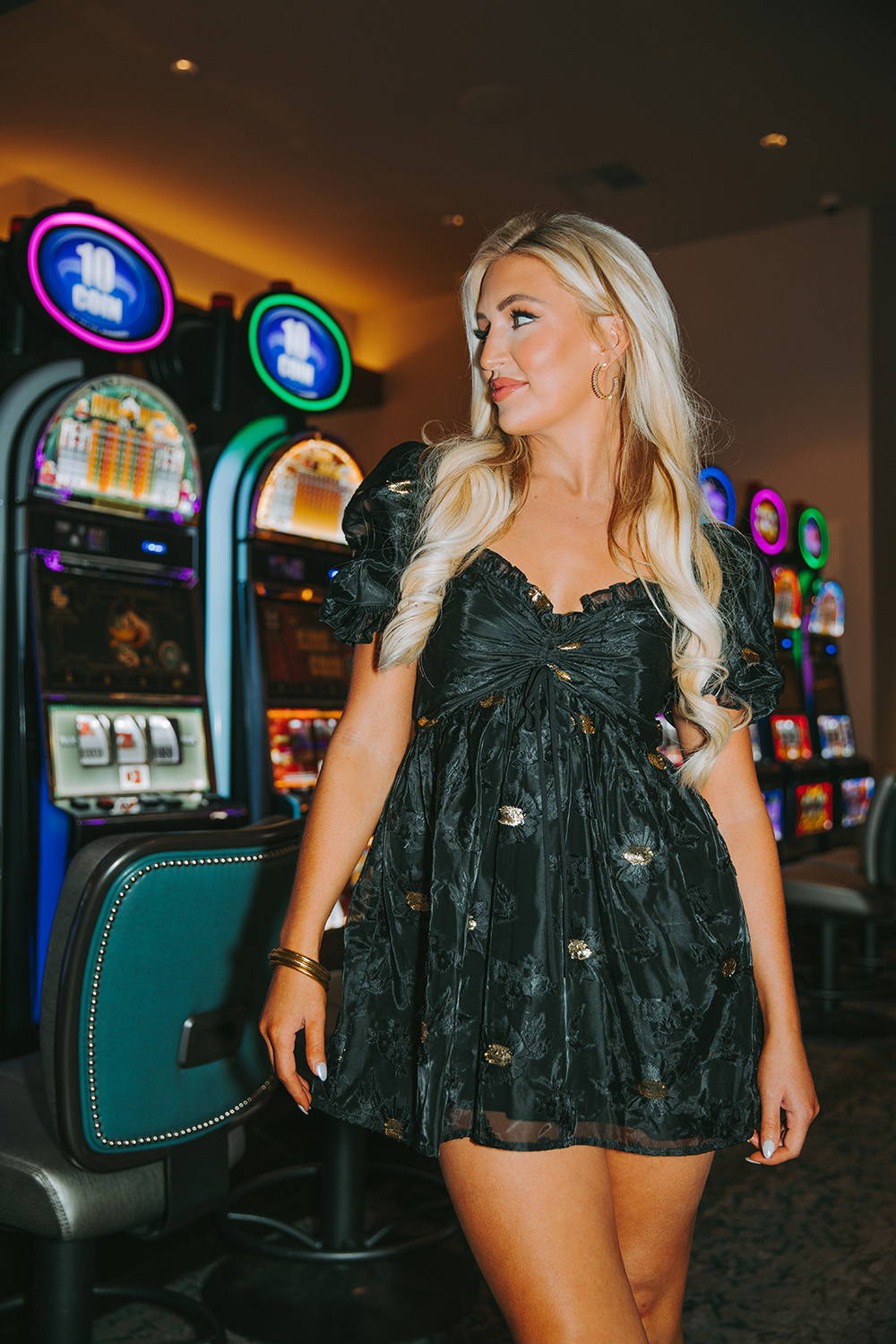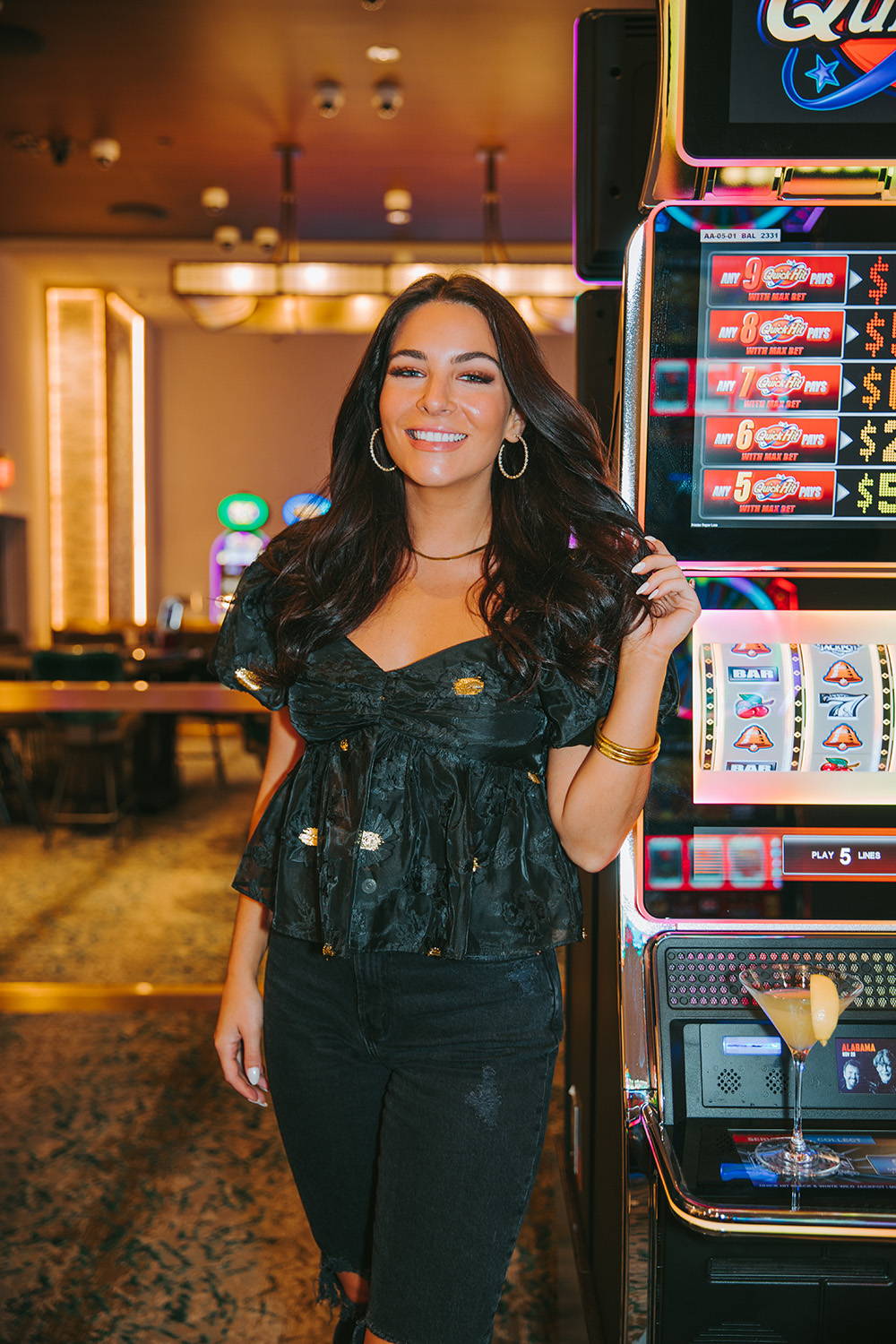 Your classic black styles have been elevated for the upcoming seasons! Our new long sleeve Prairie blouse and Tally mini dress in Black Quartz pattern, Fallon mini dress in crushed velvet Goth pattern, and Colby mini dress and Blakely top in Koi pattern add subtle pops of flair to your go-to black pieces.
Our Prairie blouse and Tally mini dress in Black Quartz pattern were made for work and play! This new pattern adds the perfect amount of sparkle with subtle polka-dots throughout. The Prairie blouse features sheer long sleeves, ruffle detail at the shoulder, a keyhole back closure, and tiered ruffles across the front and back. The Tally mini dress is offers an extremely flattering fit with a thick elastic waistband. Tally highlights a pleated high neckline with smocked neck, structured ruffle shoulder, sheer long sleeves with 3 button closures at the wrist, and small ruffle tiered skirt.
Our favorite babydoll dress, Fallon, is back in a new neutral! Our black Goth pattern is made of crushed velvet material for a twist on your basic little black dress. The Fallon mini dress includes a subtle babydoll fit, dainty long puff sleeves, a wrapped sweetheart neckline, and smocked back panel. This mini can be dressed up with strappy black heels and statement earrings, or worn casually with black combat boots or short booties!
Two best-sellers, the Colby mini dress and Blakely peplum top, are shining in the new Koi pattern! This pattern is made with textured florals and gold thread detailing throughout. The Colby mini dress is one of our most flattering fits, featuring short puff sleeves, a ruffled sweetheart neckline with an adjustable bust tie for the perfect fit, thin elastic waistband, and full skirt. The Blakeley top boasts a feminine peplum fit with short puff sleeves, a pleated sweetheart neckline, and back smocked panel.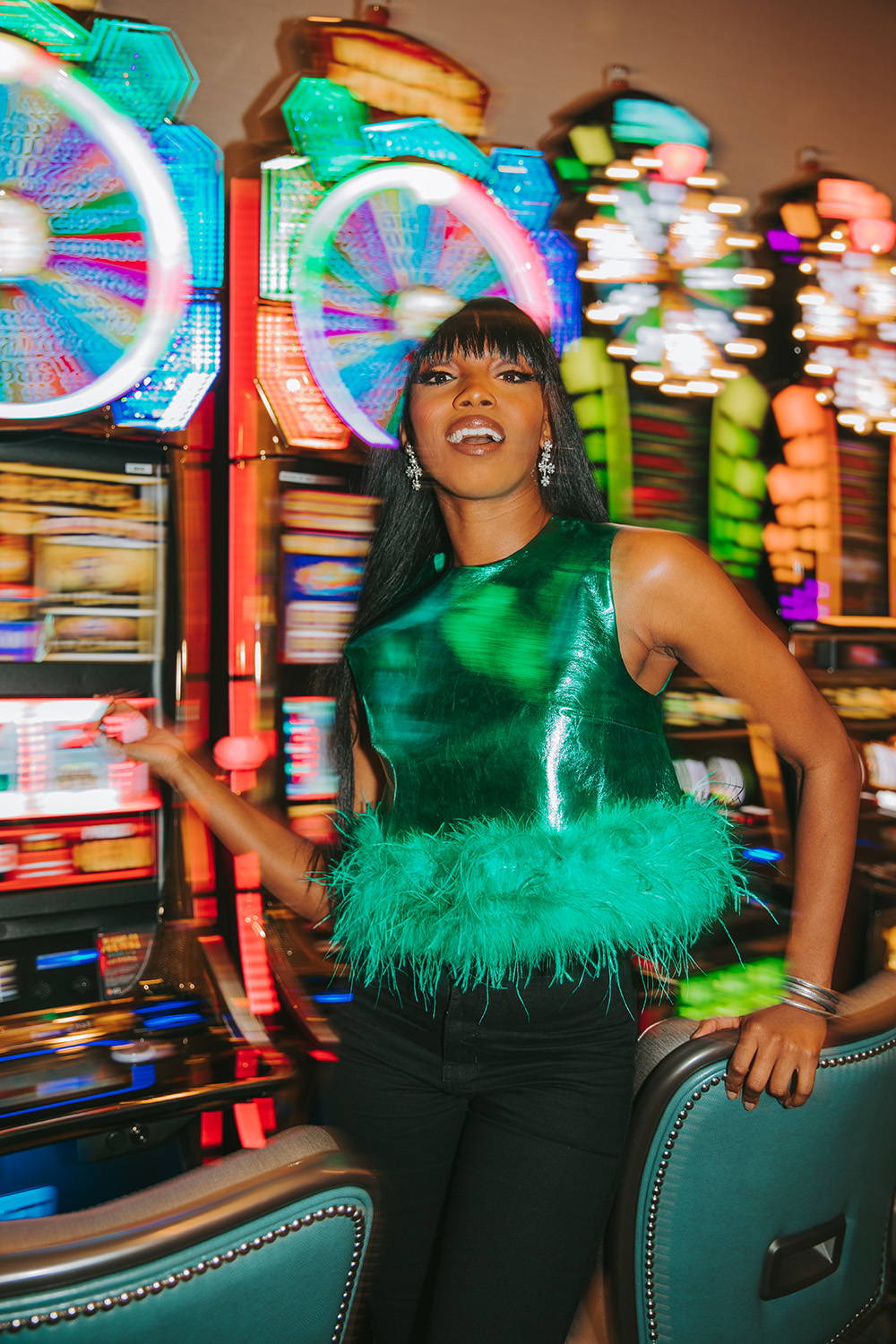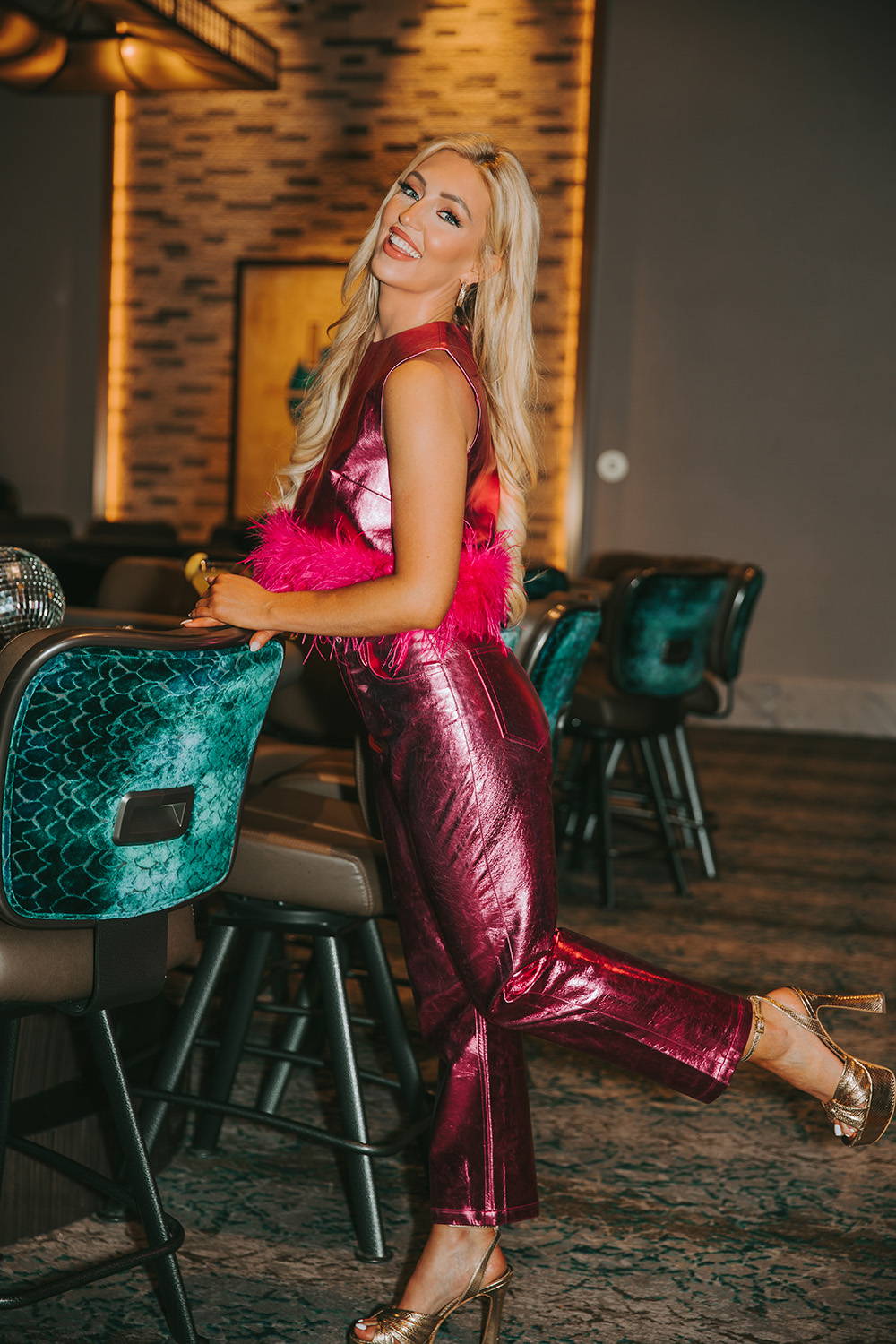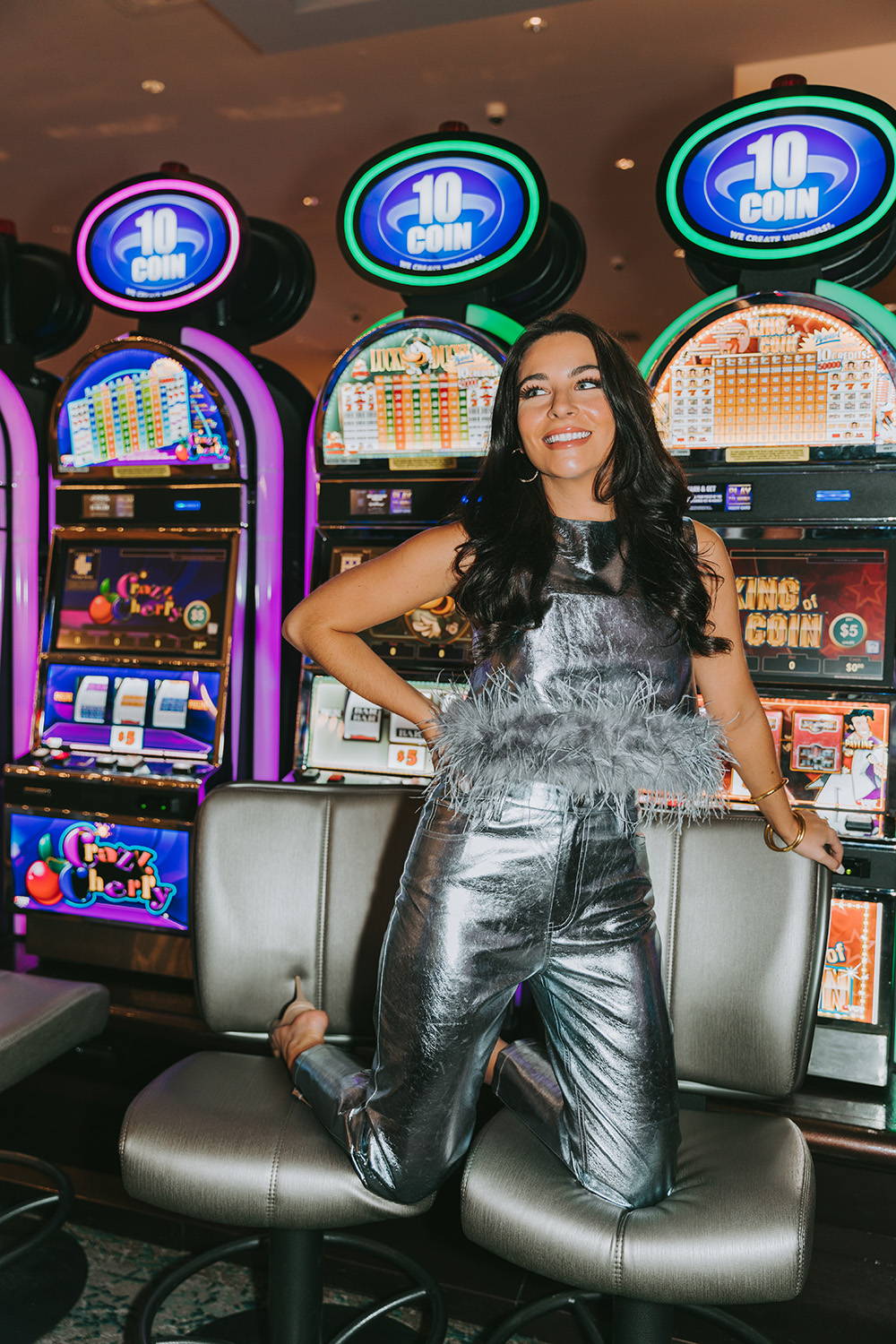 Staying on the feather trend, our Queenie top was truly made for a QUEEN! This brand new silhouette is now available in festive Emerald green, Cotton Candy pink, and Silver metallic colorways. This collection also brings new colors in our high-rise Travolta pants - metallic Cotton Candy pink and Silver!
The Queenie top brings even more flair to the feathers made with metallic vegan leather material! Highlighting a feather trim, Queenie has a high neckline, back zip closure, and cropped fit. Wear the Queenie top with black leather leggings, high-rise denim jeans, or matching Travolta pants for a monochromatic moment!
Our Travolta pants have been tried and true this season! These high-rise vegan leather metallic pants feature functional belt loops, front and back pockets, and hit at the ankle. Tone these bold pants down with a basic bodysuit, or make a statement and wear with the matching metallic Queenie top!