Easy Recipes for Tailgates - 2021
Easy Recipes for Tailgates - 2021
It's time for a tailgate party!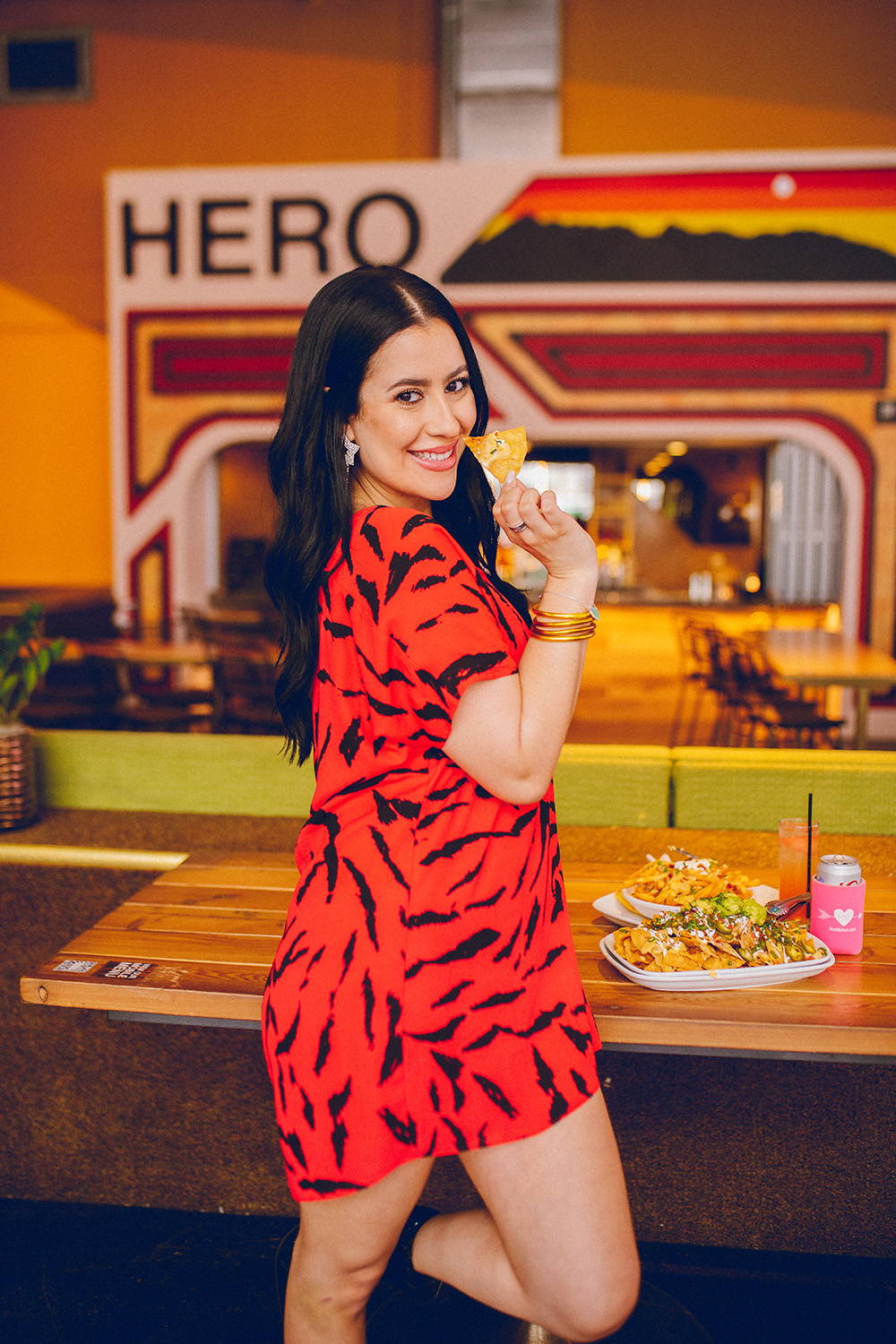 Game days are just around the corner, which means weekly tailgates and pre-game parties! Aside from the beer, tailgate snacks are one of our favorite parts of football season. Whether you're throwing your own tailgate party or attending one, these recipes are must-haves for successful snacking!
Loaded nachos are one of the best and easiest recipes for a tailgate! You can add or remove any toppings of your choice for a simple, crowd-pleasing snack. Here's how we're making them:
INGREDIENTS:
1-2 large bags of tortilla chips
1 lb ground beef
1-2 cups of shredded cheddar cheese
1-2 cups of shredded Monterey Jack cheese
1 package of taco seasoning
1 can black beans, drained and rinsed
1 can corn, drained and rinsed
1 roma tomato, diced
1/2 cup red onion, diced
Fresh jalapeños, diced
Sour cream
Your choice of salsa
DIRECTIONS:
Pre-heat oven to 400 degrees F
Spray sheet pan with nonstick spray
In a large skillet, cook ground beef + taco seasoning on medium-high heat until meat is browned
Layer tortilla chips across your sheet pan and top with ground beef, black beans, corn and cheese
Bake in oven for 5-10 minutes, or until cheese is melted
Serve immediately and top with tomato, jalapeños, red onion, sour cream and salsa
Is there anyone who DOESN'T love a good sandwich slider?! Ham and Cheese sliders are a party staple at BuddyLove! Here's how we make them:
INGREDIENTS:
1 package of King's Hawaiian Rolls
10-12 slices of Swiss cheese
9 oz sliced deli ham
2 tsp dried minced onion
3/4 cup melted butter
1 tsp Dijon mustard
1 tsp Worcestershire sauce
1 tsp brown sugar
1 tbsp poppy seed
DIRECTIONS:
Pre-heat oven to 350 degrees F
Grease baking dish with nonstick spray or olive oil
Mix together melted butter, dijon mustard, Worcestershire sauce, brown sugar, poppy seeds and dried onion in separate bowl
Cut entire loaf of Hawaiian Rolls in half and place bottom half in baking dish
Top with sliced ham, followed by sliced cheese
Place the tops of rolls onto sandwiches and brush or pour the liquid mixture over the rolls
Bake for 20 minutes or until the tops of rolls are lightly browned, then serve while hot!
Buffalo Chicken Loaded Fries
Loaded fries are always a good idea! Throw in buffalo chicken and you've got an easy dish that everyone will love! Here's our recipe:
INGREDIENTS:
2 large bags of frozen waffle fries, cooked per instructions on bag
Half of a rotisserie chicken, shredded
1 cup of buffalo sauce
1 cup of shredded mozzarella cheese
1 cup of shredded pepper jack cheese
1/2 cup of bleu cheese crumbles
5 green onions, chopped
4 tbs fresh parsley, chopped
1/2 cup of ranch dressing
DIRECTIONS:
Pre-heat oven to 425 degrees F
Arrange cooked fries across a nonstick sheet pan and cover with mozzarella cheese, followed by a layer of shredded chicken, pepper jack cheese, and bleu cheese crumbles
Top with 1/2 cup of buffalo sauce
Bake for 5-10 minutes, or until cheese is melted
Once cooked, drizzle ranch and buffalo sauce across loaded fries, then top it all off with chopped onion and fresh parsley!
You can't have a tailgate without Trash Can Punch! Some people mix their punch in an actual trash can, but you can also make this party cocktail in a cooler, or large plastic bin or bucket! Here's the recipe:
INGREDIENTS:
1 bottle of Vodka
1 bottle of Tequila
1 bottle of Everclear
1 bottle of Whiskey
3-4 oranges, sliced
1 whole pineapple, sliced
2 liters of Hawaiian Punch
1 liter of apple juice
2 cans of frozen Minute Maid limeade or lemonade
1 can of frozen orange juice
1-2 bags of ice
DIRECTIONS:
Slice fresh oranges and dice fresh pineapple
Pour all liquor ingredients over the sliced fruit and let soak for at least 1 hour
Dump liquor and fresh fruit mixture into a trash can, ice chest or drink dispenser
Stir in Hawaiian Punch and apple juice
When ready to serve, mix in frozen juice and ice!