BabeCrew Love Stories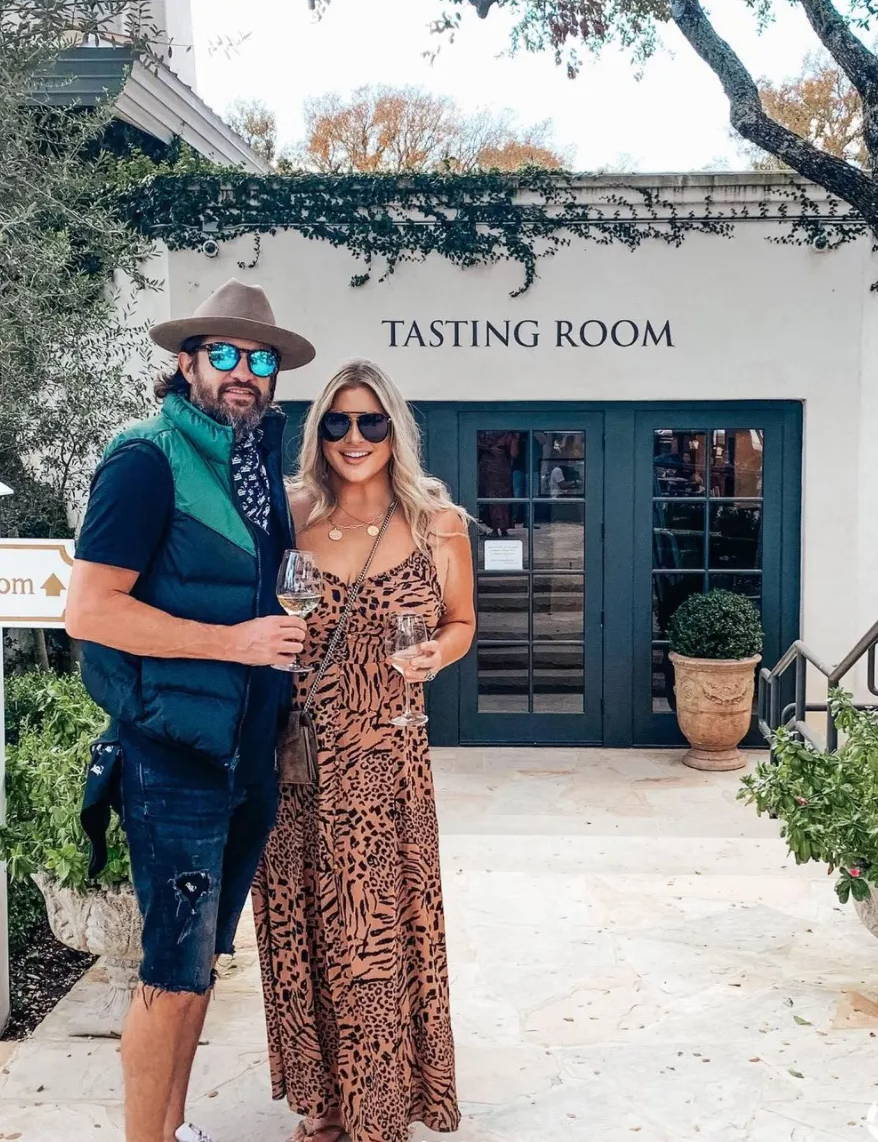 Buddy DiFonzo and Grayson LyBrand DiFonzo's love story begins in their New Braunfels, Texas fifth-grade homeroom class. For Buddy it was love at first sight, but for Grayson it was more like finding her partner in crime. They grew up as best friends until they left to attend separate universities. Buddy studied at Texas State University in San Marcos, Texas while Grayson attended Texas Christian University in Fort Worth, Texas. The summer after their Freshman year, a group of high school friends decided to float the Comal River back in their hometown. When they saw each other again after a year of separation, they realized it was not just friendship, it was love!
After graduation, Grayson and Buddy dated throughout their individual adventures. Grayson went on to intern in New York then landed a full-time job in London. A year later one of her best friends was getting married on the Caribbean island of Saint John in the USVI. She decided to fly out with her friend ten days early to help with the final details of wedding planning. Grayson loved Saint John so much, she never boarded the plane to come home!
Buddy was finishing school during her travels so for his college graduation, his parents bought him a one-way ticket to Saint John to surprise Grayson. They spent some time living and working together on the island before moving back to Texas where they wed in 2008.
In 2010 Buddy and Grayson opened their own showroom. Many people often ask how the company name came about. Growing up as best friends, Buddy was very close with Grayson's family who nicknamed him "BuddyLove". So when it came time to name the business, it was perfect. Two years later, Grayson designed her first collection.
Since starting her own label, Buddy and Grayson have planted roots in Dallas and have two beautiful, entertaining daughters, Lola Bett and Gigi. Buddy and Grayson have created a company based on their love story and hope that each woman can relate to
the brand!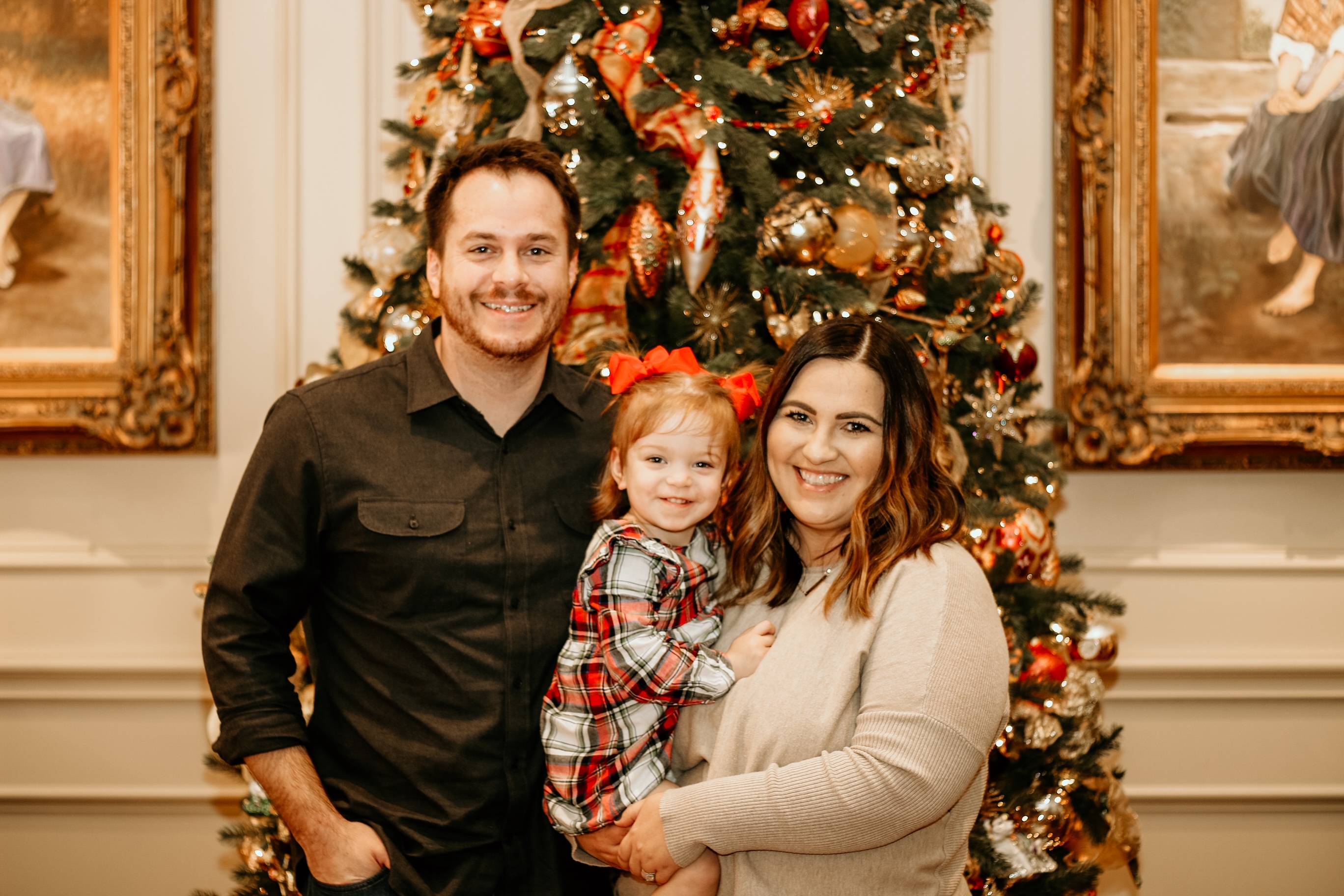 I met Nick eleven (omg) years ago at a Halloween party that my cousin was throwing. She introduced us, and since neither of us really knew anyone else, we spent the whole night talking. I have a terrible habit of forgetting someones name as soon as they tell me, so even though we talked all night, I had no idea what his name was.
A few months later, we met again at my cousins birthday party, but Nick still didn't ask for my number. Instead, he chatted with me on Words With Friends for a month before asking for my number. Yes, Words With Friends. He finally asked for my number and we met up for a bowling date! We moved in together after a year and a half of dating, but then it took him 5 more years to finally propose. We got married in November 2016, bought our first house in November 2017, and had our daughter in November 2018. Now we have a 2 year old wild child and two dogs, and writing this made me realize it's insane that we have been together for eleven years!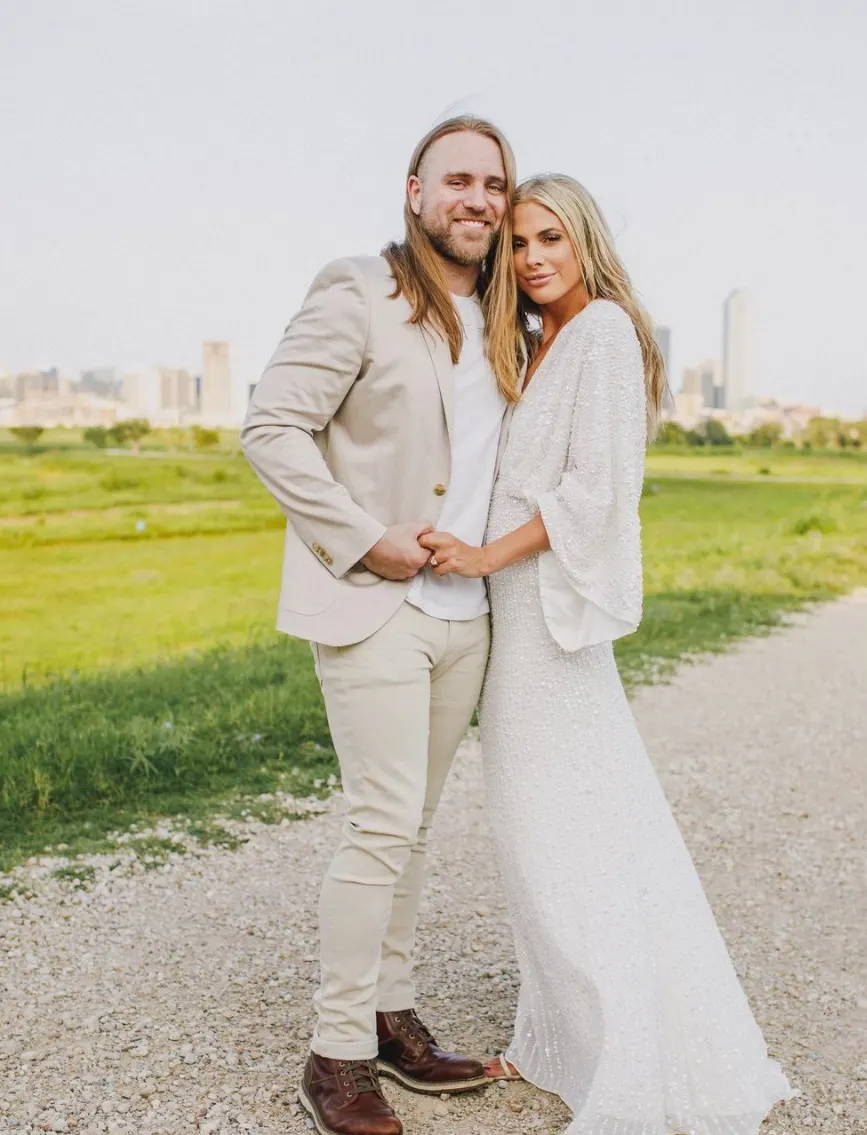 Page and Jonathan met through a mutual friend while she was visiting Nashville, Tennessee. After eight months of flying back and forth to see each other almost every single weekend, Jonathan moved to Dallas, Texas. Shortly after that, Jonathan spent two weeks taking Page to all of their first date locations in Nashville and Dallas before proposing to her on the rooftop of the Statler Hotel in downtown Dallas!
They had a wedding planned in Santorini, Greece for May 18, 2021. Due to Covid, the Grecian celebration will be postponed until October 2021 but they are still having a courthouse wedding on May 18. They just bought a home together in Dallas and can't wait to start their family there soon!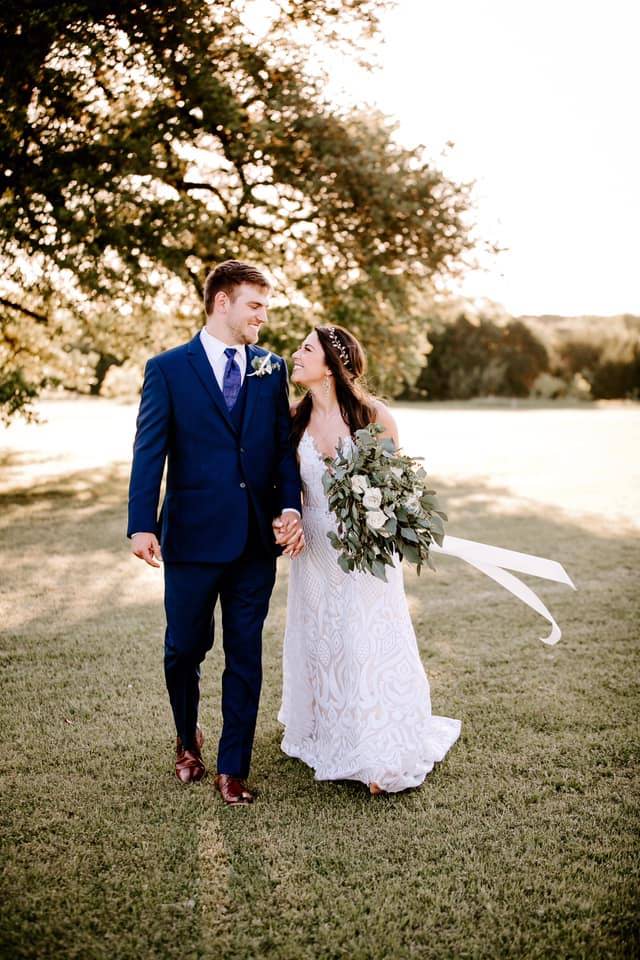 Garrett and I met in 2015 during our sophomore year of college, at the University of North Texas... On Bumble. YUUP, BUMBLE! I told him he was hot, he said I was hot, he asked for my number and the rest is a fairytale straight out of a Millennial romance novel.
After dating the rest of college, we moved in together in 2017, then got engaged and bought our first house (and another dog,) in 2018. The next year was spent planning our wedding and we got married in April, 2019! We honeymooned in the Dominican Republic, where I apparently had too many Mama Juanas, (also known as "the baby making shot") because a few months later we found out I was pregnant! We had our son, Nash, January 2nd, 2020 and are now loving life with a crazy one-year-old and our pups!